What a Real Estate Agent Really Thinks About Backyard Chicken Coops
We
independently
select these products—if you buy from one of our links, we may earn a commission. All prices were accurate at the time of publishing.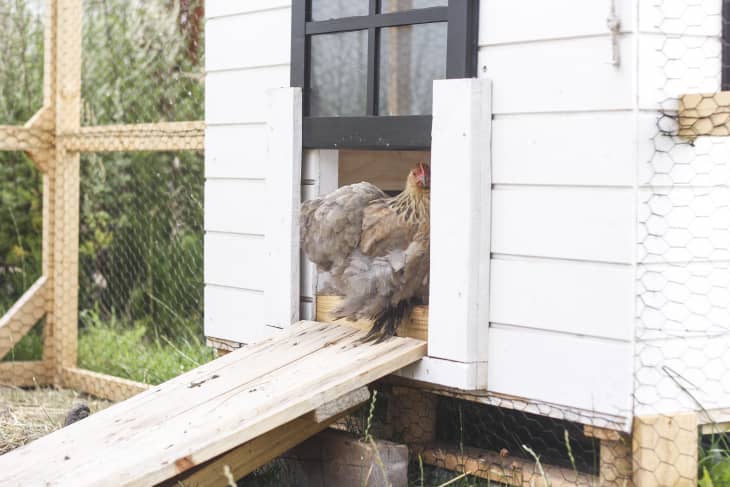 Backyard chickens have become a great way for budget-savvy animal lovers to offset the rising costs of eggs. After all, it's getting harder and harder for many people to meet those rising food costs (hello, $7 eggs!). But what happens when it comes time to list your home for sale? 
According to Heather Malone, a licensed associate broker with Howard Hanna Coach Realtors, having a chicken coop can be a major selling point. "We have shown a home in the past to our buyers, and they loved that it had a chicken coop," she says. "At the end of the showing, the sellers even gave them fresh eggs, and they ended up placing an offer on the property!" 
Of course, not all buyers are eager to become amateur farmers. Here's what Malone says you need to know about backyard coops and home selling. 
Your chicken coop should be clean.
If you are going to list your home and you have chickens and a coop, it's an absolute must that the coop is in good shape and clean, according to Malone. "If buyers see the area dirty and in disrepair, they will begin to think the worst," she explains, noting that having chickens that aren't maintained properly can bring pests like mice, which could end up in the home. 
"You want to alleviate this concern even if you plan on removing the coop before closing," she continues. "Just like anything in your home, you do not want the buyer's thoughts to start to wonder what may be going on 'behind the scenes,'" she says. "By creating a clean and [well kept] environment you allow the buyers to see your home in the best light and can picture themselves living there."
Your chicken coop may speak to the right buyers.
Having chickens may also show buyers the lifestyle they could possibly live in your home, according to Malone. "It can also show good use of the property and the options the buyers can have." 
Of course the opposite can be true as well. If your prospective buyers aren't into homesteading, they may be dreading the idea of having to deal with your coop after you're gone, which is why Malone says you should be sure to offer up the option to remove the coop before you move. 
"I always say there is a buyer for every property. As a Realtor, I don't want you to hide who you are, or the things about your home that help your family and make it unique," she continues. "Unless the coop is in bad shape, I would not suggest removing it before listing your home — especially if it's important to you."
There are some downsides to chicken coops.
Malone says that there are a few things that could send potential buyers running in the other direction. "One of those items are odors, good or bad," she says. "Once a buyer smells a foul odor inside or outside your home, it will absolutely have a negative impact on their first impression. A coop that is not being taken care of will have the buyers second guessing what else you may have neglected in the home."
Chicken coops are having a moment partly because of the cost of buying eggs from the store, but not every municipality allows them in residential areas. "I would suggest looking into your town, county and/or village codes to see if your coop or chickens need a permit as well," Malone says. If you have an unpermitted coop, or chickens in an area where they aren't allowed, you could actually be opening a whole different can of worms.