This TikToker Built a Tiny Pond in Their Backyard
We
independently
select these products—if you buy from one of our links, we may earn a commission. All prices were accurate at the time of publishing.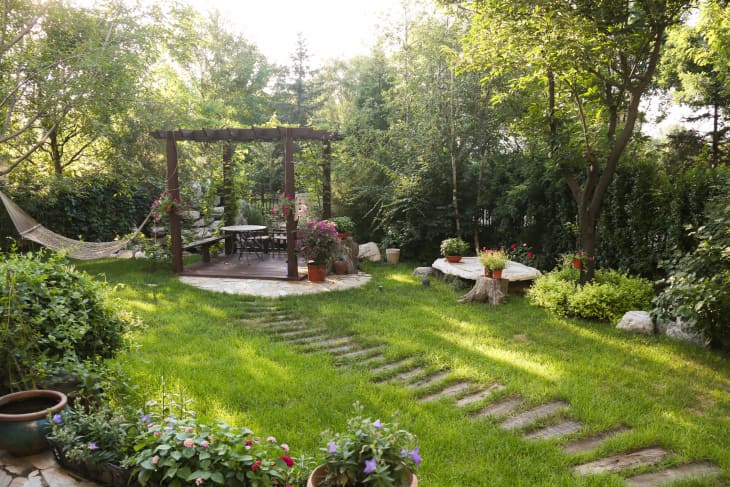 Bird feeders and flowers that attract bees and butterflies are wonderful additions to your outdoor space that bring wildlife into your yard. But one TikToker created an entirely new ecosystem in one corner of their garden by building a super-small pond. Using a two-foot square container from Amazon, some gravel, sand, and rocks, and a few gallons of water, Martha of the @marfskitchen TikTok account now shares her garden with an entire family of frogs.
"This is the single best thing I've ever done on my allotment — build a pond," Martha said in an April TikTok video. "And I've genuinely got so much joy and brought so much wildlife to my plot that I want to show anyone who has space how to build one, too."
Starting with the plastic container, which Martha buried up to the rim, Martha created plenty of space for critters to crawl on and hide using rocks and bricks. She then filled the container with water, "and I didn't need a pump or any electricity because once I planted up with native British pond plants like Brookline, marsh marigolds, and oxygenating weed, the pond just kind of finds its own equilibrium," Martha said.
"Yes, in the first year, it does go green and slimy and murky," Martha continued. "But once all those plants get growing, the pond settles into its whole own equilibrium and creates this amazing pocket for nature."
It only took a year after building the pond for the frogs to arrive at Martha's plot. First, it was one frog, then two, and after two years, an entire family of tadpoles moved in and made Martha's pond home.
In the U.S., mosquitoes may be an issue where you live, and in that case, a pond with standing water could become a breeding ground for these pesky insects. In that case, you may want to look into purchasing a pump to keep the water moving — any potential frog neighbors won't mind the bubbling water and they'll actually eat any mosquitoes that do happen upon your pond.
Thanks to Martha's video, you may just become pond obsessed. Build it, and they (aka the frogs) will definitely come.