6 Wedding Decor Trends That Are on the Way Out—According to Experts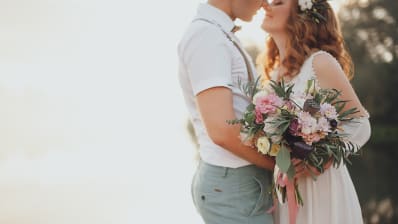 (Image credit: Shipilov77777 / Shutterstock.com)
Ask any bride-to-be and she'll probably say the same thing: Half the fun of getting married is planning the wedding. But before you go crazy on Pinterest, it's important take a minute to think about which trends are actually worth including in your big day. While some ideas might offer some initial appeal, in reality, a lot of wedding fads are fleeting.
Luckily, we have wedding planner friends Ashley Douglass, owner of Ashley Douglass Events, and Jove Meyer of Jove Meyer Events to call upon for help. We asked these party-throwing aficionados what wedding trends are on their way out, and they had lots to share. From flower crowns to table linens, read ahead for six played-out wedding fads the experts say it's time to bid farewell to.
1. Anything Overly Rustic
If you ask Douglass, rustic-slash-farmhouse chic wedding decor is officially passé. "Mason jars, distressed wooden boxes, and anything else overly rustic will make your wedding look dated," she says. Meyer says that the same goes for burlap, which "took the wedding world by storm a few years ago but now seems too casual." Douglass adds: "Savvy couples are learning to pivot from 'rustic' to more sophisticated 'organic' decor if they prefer a more natural look."
2. Flower Crowns
As adorable as flower crowns can look on the bride or bridal party, Meyer believes this is a wedding trend best kept in the past: "I think the simple elegance of flower crowns were a refreshing change from a bouquet or corsage," he explains, "but fewer and fewer couples are electing to have them at their weddings. More and more I am seeing unique ways to use flowers in brides' hair, be it flower hoops or a single stem in place of a big flashy crown."
3. Bridesmaids in Match-y Silk Robes
"These are super popular for staged 'getting ready' photos," says Douglass of overly coordinated bridal party robes, "and we have seen more than enough of these at weddings and on social media." Instead of the predictable robes, Douglass says "brides are opting for more practical gifts for their bridal party—like pajama sets and yoga clothes—which are easy to wiggle in and out of and won't mess up your hair."
4. All-White Color Palettes
While white will always be the natural draw for many couples getting married, Meyer says a lot of couples are deciding to embrace brighter colors for a bolder wedding palette. "A wedding should reflect a couple's unique style, personality, and relationship," Meyer explains. "So if they love color, I always encourage them to use it! We just did a Lisa Frank-inspired wedding and it was so amazing, fresh, and unlike anything guests had seen before!"
5. Table Linens
According to Meyer, more and more couples are opting for linen-less dinner tables and embracing the clean lines of bare wood, acrylic, or stone tables instead. "Gone are the days of assuming every couple will select a table linen color to match their chair cushion," says Meyer. "We're now seeing couples drawn to the more casual and visually stimulating design of linen-less tables. Natural elements like wood or stone can play a large role in the design and vibe of the wedding, while also making it feel less formal!"
6. Sparkler Send-Offs
Believe it or not, Douglass say sparkler send-offs at the end of the wedding night are becoming a thing of the past. "Many venues and cities no longer permit sparklers at receptions for safety reasons," Douglass explains. "So wedding guests are sending couples off with a fun drunken sing-a-long, like 'They're a jolly good couple,' instead."