Tested & Reviewed: Baking-Soda Free Natural Deodorants that Actually Work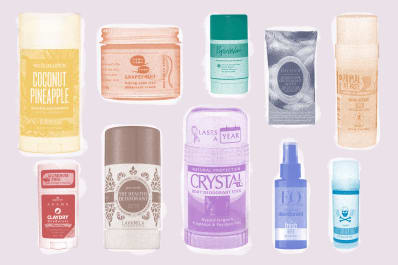 Last summer, due in part to a story I did on non-aluminum deodorants, I began my "natural" deodorant journey. After having tested a handful myself for that piece, I came to realize that I, in fact, liked these non-aluminum varieties as much (if not more) than the antiperspirants I'd been wearing since I hit puberty. One of my favorites in particular was Soapwalla's Deodorant Cream in original scent. It was surprisingly effective, keeping the pit stink to a total minimum even on the muggiest of South Florida summer days.
But then, something started happening. My armpits got really irritated. And I mean really, irritated to the point that it became so painful, I could no longer use the natural deo I had come to love. After a little research (and a few other similar deodorants tested with the same results), I learned that baking soda was the culprit of my discomfort. I was just too sensitive to it, and thus began my new journey: to find a baking soda-free non-aluminum deodorant that kept me as fresh as what I had come to expect.
I dug around the blogosphere to see what people were recommending. What was working for others that could also work for me? I hung around the aisles at Whole Foods listening in and watching to see what people were buying, occasionally throwing in a "Do you like that product?" if the person looked friendly enough.
After weeks of testing 10 recommended baking soda-free deodorants, I can now safely report back that many of them were in fact total stinkers (literally). But, alas—and thankfully—a handful delivered mostly acceptable results (depending on what I was wearing). Without further ado, here is a detailed account of all the deos tested, my thoughts, and which ones came out on top.
The Ones That Were Pretty Good
Price: $10.99
Application: The stick applicator and the formula were very familiar; similar to the antiperspirants I'd used in the past. It smells vaguely of sunscreen (which I kind of liked, actually) and dries quickly. Swipe and go!
Overall thoughts: This, like all the other deodorants tested, were put through the wringer at the gym. I am not afraid to say that I am a sweat machine, and this mostly held up (with the exception of a day here and there were I was less than satisfied with the post-activity stench level). Overall, this one is a keeper for me.
Final Grade: B+
Price: $7
Application: This one took a little practice . The instructions note to wet the crystal (yes, it's like…a solid piece of rock in there), then swipe it across your armpits. The first time I did this, I was a soaking wet mess. I couldn't put on a shirt for at least 15 minutes. But then, I finally figured out the right amount of water to use (just run it under the tap for a second, give it a shake or two, then apply.) Overall, it feels like exactly what it is: applying a wet, smooth rock to your underarms.
Overall thoughts: Okay, so before I continue, I have to preface this by saying that my grandmother (who's a total hippie when it comes to all things natural) has been using this for years. I always snickered in my head about it, assuming it didn't work and she just wasn't a stinky person like I am, but ladies and gentleman, I have to tell you…this actually (mostly) works. The caveat, however, is that you should only apply when your armpit is clean (i.e. post shower or after a sink wash….::cough : something I never did, of course). If you use this when your pits are funky, the rock will absorb all that same funk and transfer it to you the next time you use it (this is something explained in detail in the online reviews). So overall, I was incredibly pleased, and will likely continue to use this on days I'm not super active.
Final Grade: B
Price: $5.79
Application: Business as usual here. At first, it feels a little wet, but it absorbs pretty quickly. The scent is reminiscent of something my dad would wear (I'm not sure what "white pine" is supposed to smell like), but overall, nothing out of the usual here.
Overall thoughts: I have to say, I really liked this deodorant (and my S.O., who sweats far less than I do) REALLY liked this deodorant. I'd find him sneakily borrowing this on a regular basis, so that says something, I think. I felt like I had to reapply halfway through the day (especially if I was going to the gym), but it rarely failed me completely. It wasn't a totally stink-free experience, but nothing I was too ashamed of.
Final Grade: B- (ish)
The Ones That Didn't Totally Suck
Price: $14
Application: The creamy formulation (which reminds me of the hair pomade I'd use in my high school years), comes in a pot, so you have to get your fingers a little dirty every time you use this. I started putting it on right after the shower so I could easily wipe my application finger on my towel and move on with my life. The grapefruit scent was yummy and fresh!
Overall thoughts: Up until a recent trip to New York where I wore exclusively polyester blouses and didn't have a chance to reapply midday, I thought this was the one. And then…my world came crashing down. At home, I mostly wear cotton tops to work, go to the gym, run errands, etc., but oh man, when I swapped to a non-breathable fabric, things got scary, to the point that I was embarrassed to lift my arms up to remove my carry-on bag from the overhead bin on the plane. Buyer beware: if you're a sweater, and you're wearing non-natural fibers, this will likely fail you…bad.
Final Grade: B- (wearing cotton); F (wearing polyester)
Price: $6.99
Application: The only spray in the bunch I tested. I won't lie, it was pretty refreshing to spritz my armpits with a lavender spray. I didn't think it would do much (puh-lease, like a delicate spray was going to protect me from B.O.), I tried it anyway because the reviews were good online.
Overall thoughts: The smell of the lavender was soothing, and I liked how this felt when applying. But I was dubious it was going to perform as well as a cream or stick. You know what, though? It wasn't half bad! It took a few days of wearing to finally find that it was effective (I think my armpits had to "detoxify" from whatever I was wearing previously). I did apply multiple times throughout the day (I work from home, so it's no biggie to do so), but I could imagine it'd be annoying to carry this around with you if you work in an office. The bottle is labeled "all day" which is a bit of a stretch, but all in all, I kept going back to use this without much disappointment (except for that one day…).
Final Grade: C
Price: $12.95
Application: A little scratchy. I've used the traditional Primal Pit Paste (which I loved, until my armpits started falling apart because of the baking soda) and thought it was great. You have to hold the applicator to your body to warm up for a second or two, then apply like normal. But there was something about the one I received that felt like I was rubbing gravel against my under arm. It was almost as if armor had formed around bubbles in the deodorant, and they were fighting me with every swipe.
Overall thoughts: Oh baking soda-free Primal Pit Paste. I wanted to love you. I had heard such wonderful things about you, but you didn't live up to your reputation. You weren't a total loss, but as someone who sweats on a non-human level, you just didn't cut it for me. Perhaps you'd be better suited for a normal sweating person…just maybe.
Final Grade: C-
The Ones That (Sorry) Were Hopeless
Price: $9
Application: The teenie little 1 oz bottle made it feel like I was putting a baby's deodorant on (you know, if baby's had deodorant bottles that they used). It was really silky and went on like a dream.
Overall thoughts: The application is where the dream ended for me. Initially, it smelled amazing. I was pumped that this was "award winning" and a "high-performance deodorant" because I need all the help I can get. Unfortunately, all of that was a big, terrible lie. If by "Sport Luxe" they mean someone is playing the sports for you, while you sit on the side lines not sweating even just a little bit, sure, this is great, but real talk, this didn't work for me at all. If you carry it around with you all day and apply every hour on the hour, I can see it working great, but otherwise, you might want to skip this one.
Final Grade: D
Price: $16.99
Application: I could smell the tea tree oil before I even twisted off the cap, but it's a scent I favor, so it worked out. I found the application on this kind of strange, honestly. The directions state to rub into underarms until completely clear, which never happened for me. On day one, I just rubbed it in (I hadn't read the directions) and kept on walking, only to find that in about an hour, all the product had pilled up in my armpit, rendering it basically useless. On day two, I followed the instructions and rubbed until it went clear…but I got tired of waiting for that to happen and stopped after about 45 seconds. I thought the black color (thanks to the activated charcoal) was going to stain my lighter clothing, but luckily, it didn't.
Overall thoughts: Fail. Total fail. I gave this one the old college try, and was even rooting for it because it appeared on "Shark Tank." I love "Shark Tank"! How could this fail? Well, it did. I don't know, maybe I did something wrong. Maybe I needed to give the charcoal more time to activate. Maybe it does eventually go clear and I was just seconds away from that happening and that's clutch. I just don't understand, because this one felt like it was going to be great, but it just wasn't.
Final Grade: D
Price: $8.99
Application: Every time I used Bare Bones, I felt like my armpits were an oil slick. There were times when I had to wipe away the greasy feeling because I couldn't stand it.
Overall thoughts: I'm all about supporting small businesses, especially small businesses that support natural ingredients, don't test on animals and send you a hand-written note from the owner with your purchase. With all that said, nothing about this worked for me. My chemistry simply did not gel with this formulation. There's not much more I can say about that.
Final Grade: D-
Price: $9.00
Application: Imagine taking a baby wipe and running it across your armpit. That's what this was like. The coconut milk scent was glorious though, and made me feel like I was on vacation! However, I have to wonder how wasteful all these towelettes are, considering they all instantly go into the trash.
Overall thoughts: "Smell fabulous all day long without harsh chemicals" says the description on Amazon. Well, that's a load of lies if ever I heard one. I love Pacifica for their lotions and other skincare products, but man did these kind of suck. They essentially did nothing for me. Well, not nothing, they were helpful to "refresh" once one of the other deodorants tested failed me miserably and I had to reapply with something else, but other than that, these shouldn't even be in the "deodorant" category.
Final Grade: F
Apartment Therapy supports our readers with carefully chosen product recommendations to improve life at home. You support us through our independently chosen links, many of which earn us a commission.