These $35 Storage Finds Are Complete Space Savers in My Pantry
We
independently
select these products—if you buy from one of our links, we may earn a commission. All prices were accurate at the time of publishing.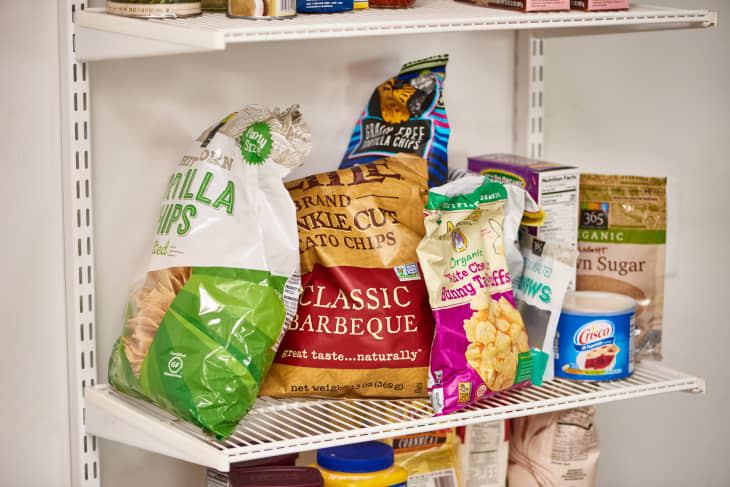 As a professional organizer, tackling pantries has always been one of the more challenging parts of the job. They come in all shapes and sizes and, being that I hail from New York, that usually meant relatively small spaces. In most of the apartments I've lived in, the pantry was simply non-existent.
So, when I took the plunge and moved south, I was grateful to have an actual pantry to organize for the first time in my life. It's still modest — a shallow closet with basic wire shelving — but who am I to complain? It's just the dog and me and, although I cook most of my meals at home, I don't usually buy in bulk or have a ton of backstock food on hand. However, despite that fact and my fairly decent organization skills, I found that I was still short on space, especially in the area of my favorite meal: breakfast.
As I was researching ways to maximize it, Newell Brands (the company that makes Ball mason jars), reached out to introduce its newest product. The company graciously sent me an assorted three-pack of Ball Stack & Store Jars to try — and I was not disappointed.
One jar measures 9.9 cups and the two others hold 4 cups. They're airtight which is always very important for proper food storage to keep items fresher and longer. They stack on top of each other with the two shorter jars equaling the height of the larger one.
Immediately upon receiving the set, I thought of using it for my oatmeal ingredients. The type of oats I buy come in a large bag that didn't fit into any of the small baskets I placed in the pantry but would fit just right in the large jar. When I make overnight oats, I like to mix in some seeds and brown sugar, both of which fit perfectly in the smaller jars.
Once I decanted the three ingredients (and added a terra cotta bear to the sugar to keep it soft), I took note of the expiration dates. Using a basic label maker, I stuck the dates to the back of each jar. When I do this for my clients, I will sometimes also include cooking instructions or nutrition facts should they want them. Whether it's a box or bag, I simply cut out the information and tape it to the back or bottom of the jar.
I then labeled the jars to match the rest of the pantry using my Cricut Joy machine. A word of caution: since the jars are glass, and especially when they're full, they can be on the heavy side so lift them carefully. In my haste, I usually try to grab the two stacking jars at the same time and have almost dropped them, so I don't suggest you try my method. Also, although the lids are airtight, they're not difficult to remove, so only lift them by their sides.
Overall, I not only adore the look of these jars, but I also love how they keep my food from getting stale, allow me to see exactly when I need to stock up on something, and save space by utilizing shelf height. If you've been thinking about decanting dry goods, I would suggest starting small with a set like this and storing things you don't use all the time. For example, baking ingredients, such as flour and sugar, often sit on pantry shelves and eventually go bad whether that's from not using them or being improperly sealed. Trust me, I've sadly seen too much food waste in my line of business. So, in my professional opinion, airtight storage jars like these are the smart solution.