Real Estate Agents Hate Seeing This Popular Type of Door in Homes—Here's Why
We independently select these products—if you buy from one of our links, we may earn a commission. All prices were accurate at the time of publishing.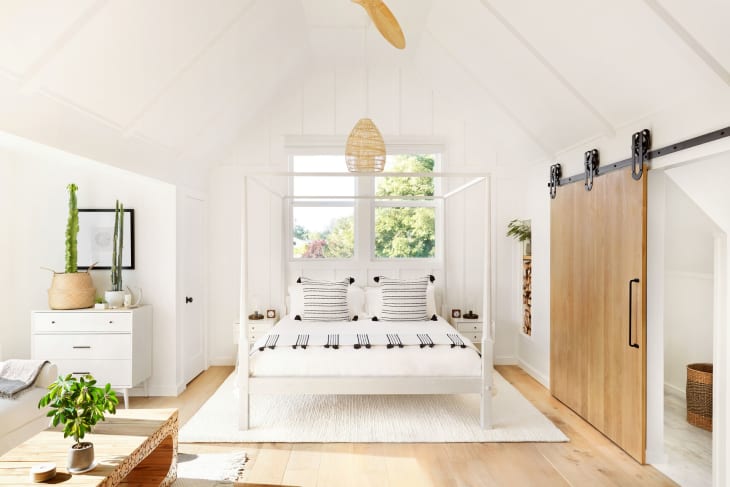 We can thank Chip and Joanna Gaines for making the barn door mainstream, but when it comes to functionality, are they really the best choice? The modern farmhouse look is a popular and sought-after aesthetic, but barn doors can cause concern when a real estate agent is trying to finalize a sale.
Follow Topics for more like this
Follow for more stories like this
The reason for the worry is understandable: While this rustic look might be dreamy to you, there's a strong possibility that these sliding antique-y doors won't appeal—at all—to future buyers. So what's the big controversy about something so homespun? Read on for four hot takes on the topic.
Barn doors should stay in the barn
"We find that most homebuyers today feel that barn doors don't fit with the style of most homes and can be a confusing change in aesthetic from the rest of the house. Also, if you have small children, they can be dangerous to little hands and feet. My bottom line: While barn doors may look good on HGTV, they are more of a hassle than they're worth." —Amy Owens, a real estate agent at Keller Williams in Upper Montclair, New Jersey
They won't keep the noise out
"In some situations, barn doors lack the privacy and sound reduction of a traditional door so, if they are used as a bathroom or bedroom door, buyers might take note." —Ashley Baskin, a licensed real estate agent who serves on the advisory board of Home Life Digest, a décor site
Think twice if you're mixing rustic and modern
"I would caution sellers with barn doors to look at their home holistically and look at whether or not they fit into your overall decor. I always say that whenever you make updates to your home and are selecting trendier decor, don't force it! For example, if you've got a bunch of '90s brass fixtures and throw in a barn door, it will hurt your resale because it will look odd. Odd will absolutely hurt your resale value." —Justin Fox, broker/owner of RE/MAX Professionals in Minneapolis
They're a passing trend—not timeless
"Barn doors are still exciting to buyers because they show that the home has recently been updated. Of course, just like other trends that have come and gone, barn doors will date these same homes and need to be updated when the next trend comes along. We all know this trend won't last forever." —Shelly Wilson, an agent at RE/MAX Advanced Realty in Indianapolis
Not all barn doors are created equal
"We just sold our Burbank, California, home in September after living there for 15 years. We had an expensive custom barn door made for our laundry room and every person who looked at our house asked if the barn door would be included in the sale. It was huge so it needed to stay. And guess what: We love barn doors so much we're having one made in our new place." —Marla White, a brand consultant in Los Angeles