8 Expert-Approved Tips for Making Basement Laundry Less Miserable
We independently select these products—if you buy from one of our links, we may earn a commission. All prices were accurate at the time of publishing.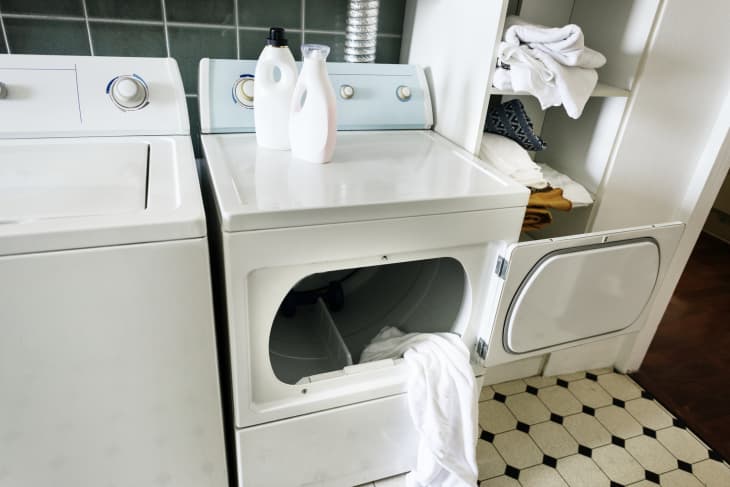 If there's one aspect of city living that I had grossly romanticized before I actually experienced it, it's not owning a laundry machine. I can remember graduating from college, touring my first-ever apartment, and shrugging off the idea of the laundromat being a couple blocks away. I imagined myself schlepping around a cute, patterned laundry bag or meeting a new friend as I put coins into a machine. In reality, though, not owning a laundry machine is about the least charming, most inconvenient thing in the world. Doable, sure, but not fun. So when I finally moved into an old row home in another city, complete with a washer and dryer in the basement, I felt like I was getting hours of my life (and some money) back. 
Follow Topics for more like this
Follow for more stories like this
Sure, the basement of our 100-year-old rental was a little scary and dark and dusty, but it was in our home, and that was all that mattered. I figured if I could do laundry in my pajamas, then it was worth it, even if it was three floors away from our bedroom. (Our house is very tall and very narrow.) The first time I ran up the basement stairs after doing the laundry, I hit my head so hard on the ceiling that I had a knot for a week. The second time, I spent most of the experience trying to decipher if the mouse trap in the far corner of the cellar was new or old.
Since then, I've pretty much handed over most of the laundry duties to my husband. After a few months of him doing the laundry, I was pleasantly surprised to find the space spruced up. He had added a hanging rack, some string lights, and lots of storage for various items. I was impressed. It also got me thinking about other creative ways to spruce up a not-so-inviting space, so I interviewed experts about their tips for making basement laundry a little less miserable. 
Invest in cute storage containers.
If your laundry area in the basement is cluttered with old moving boxes or dilapidated plastic storage containers, it's officially time to invest in some more attractive options, says Ashley Murphy, co-founder of NEAT Method. 
"These beautiful and functional baskets are great for corralling all your laundry room essentials," Murphy says. Look for unexpected materials like steel or rattan to get away from the typical plastic laundry basket look. And consider storing supplies like powder detergent and dryer balls in clear canisters to make everything look more uniform and appealing.
Even just investing in a few of these tools can change your space from one full of odds and ends to something that actually looks intentional. 
There is sometimes nothing worse than a cold, gross basement floor. If you have a cement or otherwise uninviting type of floor, first clear it of any sort of debris. Then add a washable rug, as Marissa Hagmeyer, NEAT Method's other co-founder, suggests. 
"This will polish off the space and make it feel more comfortable when you are downstairs tackling piles of clothes," Hagmeyer says. Plus, when it gets dirty or stained, it's pretty much the easiest thing ever just to throw it in the wash right then and there.
Try out new laundry products.
Most people probably haven't given a ton of thought to what kind of laundry products they use. Maybe you just opt for the cheapest option every time, or you use the products your parents did out of habit. Hannah Yokoji, brand director for The Laundress, suggests investing in some different laundry products to enhance your entire experience.
Try a kit with a few different products that you can display on a shelf or on a chic mirrored tray to spruce up your space, Yokoji suggests. When you're using products that are beautiful to look at and thoughtfully designed, it automatically makes you a little more invested in the overall experience.
Make the entire room smell good.
One of the very worst parts about basement laundry is that most basements have some sort of a smell — and it's usually not very pleasant. Whether you're dealing with a weird, unidentified musty odor or the space feels just a little damp and mildewy, trying out solutions that make the entire space smell better will make you want to be down there more. 
Yokoji suggests tucking a few lavender pouches (which you can buy or DIY!) throughout the space or storing them in a pretty glass jar. You can also throw them in the dryer with a load of laundry to infuse the soothing scent into your clothes. Another option Yokoji suggests is using an odor-absorber (like this scented vinegar) to trap any unpleasant smells before they reach your nose.
Designate an air-drying area.
If you don't already have an area that's just for air-dry items, you're making your life difficult and potentially damaging air-dry-only clothing. Plus, using the dryer less means consuming less energy, which is never a bad thing. 
"Dedicate an area for air-drying delicate garments. We're big fans of hanging to dry when possible  — it's better for fabrics and the environment," Yokoji says. "Consider collapsible wall-mounted racks or a closet rack."
As someone whose basement was previously lit by only a series of bare bulbs swinging from the ceiling, I can certainly confirm that adding any type of extra lighting to a basement works wonders. (Even just some basic string lights can add a bit of warmth.) 
Shelby Greene of Living Spaces Furniture says that some paint in addition to thoughtful lighting can make all the difference in a basement. 
"Basements can have little to no lighting and can seem out of place or forgotten from the rest of the home," Greene explains. "To bring it to life, give the room a bright white paint and recessed lighting to make the room appear larger."
Add some color and pattern.
Bring some more brightness and warmth to your basement by experimenting with color, suggests Lindsay Hendrix of Hi Luxe Interiors.
"Painting the walls a cheery color can go a long way in a basement — and even a bright white (or a bright white with pops of accent colors) can lift spirits."
If you can't paint or add wallpaper (more on that below), consider what other options you have for adding color into the room. Could you hang fabric? Get some fun art in the space? The more creative you are with it, the better. 
Experiment with bold wallpaper. 
If you are able to experiment with wallpaper, the basement is a great place to do it. Bold, patterned wallpaper can intimidate some people, but the basement is a great place to experiment. After all, who really sees your basement that often? If you end up loving it, you can try out some other patterns in different, more frequented rooms. 
Elizabeth Rees, co-founder of Chasing Paper, suggests upgrading a drab space with a DIY peel-and-stick wallpaper. "In a matter of hours, you can simply peel, stick, and adhere the panels (without an interior designer or contractor) for a huge impact."
What the feedback from all of these experts shows is that making your basement laundry room less terrible is really about thinking of it more as a room itself and less as a storage area. If your laundry room weren't the same place where you store your holiday decorations and other miscellaneous items, how would you want it to look? When you start thinking of it that way, it becomes a little bit easier to invest in solutions that make it look and feel more comfortable. And hey, if all else fails, simply remember the time when you didn't have a washing machine in your house at all. Trust me, it'll suddenly seem way more appealing.