I'm Convinced This $200 Portable Washing Machine Is the Best Thing a Renter Can Buy
We independently select these products—if you buy from one of our links, we may earn a commission. All prices were accurate at the time of publishing.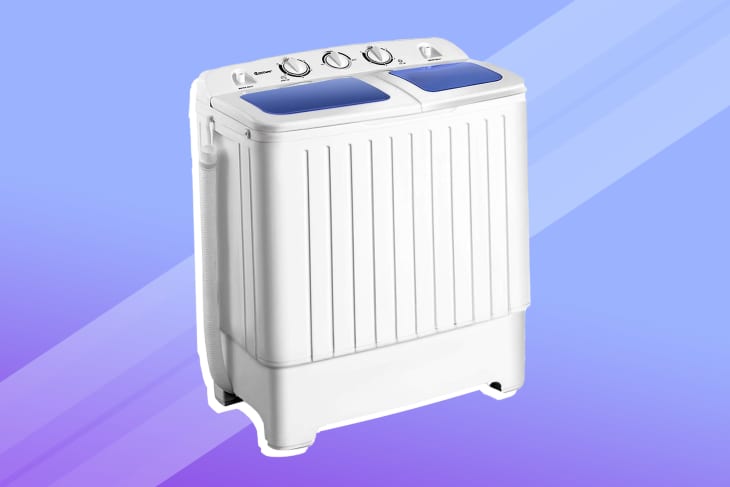 My roommate and I live pretty close to a laundromat, but as every occupant of a walk-up knows, washing clothes in public requires a lot more than simply strolling out the door. There's the gathering of garments, hefting your weeks' worth of laundry down the street, then sitting at the laundromat, trying to read your book but really just watching whatever soap opera is on the TV in the back. If any of this feels familiar, I have some wonderfully good news for you renters out there: Laundry day is about to get so much easier.
While really only "portable" in the sense that I can store it in a closet, then trundle it out to my bathroom with ease, the $200 machine has no doubt had the largest impact on my day-to-day life of any appliance I've bought in recent memory. No longer do I need to save up weeks' worth of clothes for the laundromat. As I write this article, I'm watching my roommate do a little weeknight load of laundry—in our home!
This little guy is about two feet tall and weighs 28 pounds—that's the average weight of a Cardigan Welsh Corgi, for comparison. It consists of two drums: One slightly larger one for washing, and a slightly smaller compartment for spin drying. For all the ways in which this thing has improved my life, it has some very lovable quirks I should tell you about.
An included hose is supposed to hook up to a faucet to make filling the machine with water that much easier. This hose does not work. I don't mean that it didn't work in my apartment, I mean all the reviews and all of my personal experience leads me to believe this hose is not compatible with any faucet in the continental U.S. The fix? Just walk into your local hardware store and buy the first 3 gallon bucket that speaks to you. That is what you'll use to load water into the washing drum. It is now your Laundry Bucket™. This machine also has a gravity drain, so it needs to be elevated to work. After some trial and error, I discovered the ideal setup is letting the drainage tube hang into the bathtub. 
I want to note that this machine does not hold as much as a standard washing machine. But what it lacks in capacity, it makes up for in time and not-having-to-leave-your-house-ed-ness. You can fit about a week's worth of underwear, socks, shirts (dependent on the weather, of course) and maybe a pair of jeans for good measure into one 28-minute load. (Yes, that includes rinse and dryer cycles). It is not built for towels and sheets, but we all have our flaws, don't we?
If you're hemming and hawing over spending $200, I'll run the numbers for you. I feel we can be honest with each other here—you're probably not going to the laundromat every week. So, if you go to the laundromat once every two weeks and pay $6 for two loads in a washing machine and $2.50 for a dryer cycle (I'm being conservative. I won't have it be said that I fudged the numbers in favor of the little machine), that's $8.50. Multiply that by 26—realistically, the number of trips you'd make per year—and multiply it again by two to account for both roommates, and you've got $442. Even with occasional runs for sheets and towels we're still saving big. 
Do air-dried clothes feel a little stiff? Sure. But I cannot beat the convenience of being able to cook dinner, do laundry, and watch Netflix at the same time, all in the comfort of some freshly washed sweatpants.