This Husband Built a Full Video Store In His Basement, and It Has '90s Nostalgia Galore
We
independently
select these products—if you buy from one of our links, we may earn a commission. All prices were accurate at the time of publishing.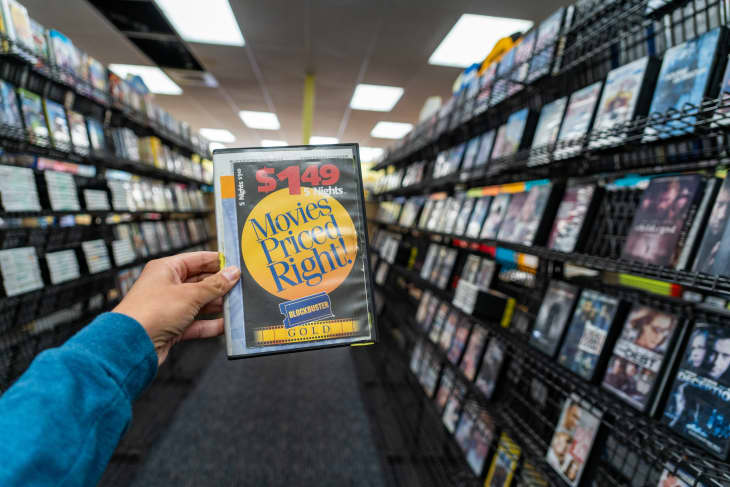 If you grew up in the '80s and '90s, you likely have fond memories of heading to your local video store to rent the latest and greatest movies for a Friday or Saturday night spent snacking and relaxing with your pals. Though video stores are few and far between these days thanks to the omnipresence of streaming services, one Iowa-based couple took advantage of their local store closing at the start of the pandemic by collecting all the items needed to build their very own video bunker, and it'll make you instantly nostalgic for the days of physical media and even late fees.
The couple shared a tour of their basement video store on their TikTok account, aptly called @thevideobunker. The husband-wife team shared that at the start of the pandemic last spring, their local Family Video was closing up shop. The husband was inspired to revamp the couple's basement into a rental hub thanks to the shelving, movies and games, and pop culture memorabilia they've collected over the years. There's even a cash register featuring snacks, a movie viewing room with recliners to cozy up and watch your new "rentals," and an, ahem, "adult section" behind the counter, "so you'll have to blush when you ask for titles like 'The Nightcrawler.'"
Of course, video stores might be of a bygone era, but nostalgia for physical media is at an all-time high. Last year, the world's last operating Blockbuster in Bend, Oregon was partially converted to an appropriately themed Airbnb, costing just $4 a night, or roughly the cost of a movie rental. While it doesn't seem like the listing is still available, you can still visit the store and rent a movie.
If a trip to Oregon isn't in your immediate plans, fear not. You can relive all the memories of a Blockbuster night by watching the 2020 documentary "The Last Blockbuster," which is, ironically, available to stream on Netflix. While there won't be any late fees, it never hurts to "be kind, rewind."