Beanie Feldstein's Quarantine Craft Is Made of Her Favorite Childhood Memories (Literally)
We
independently
select these products—if you buy from one of our links, we may earn a commission. All prices were accurate at the time of publishing.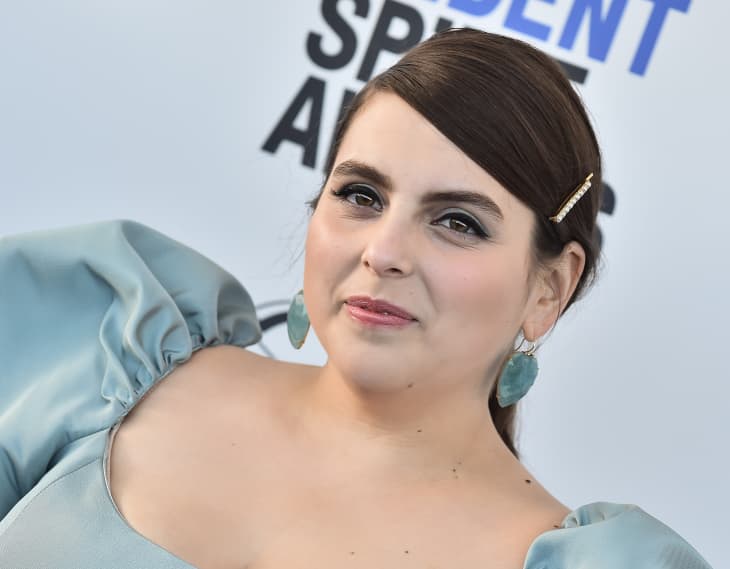 Beanie Feldstein is currently quarantining at her parent's house in Los Angeles and is sleeping in her childhood bedroom (can relate), where she's surrounded by comforting memories of ticket stubs, bulletin boards, and stuffed animals. In a recent interview with Domino, Feldstein explains how she wants to take these nostalgic items and transform them into her latest craft: a blanket made of her friends' old sweats. 
The "How To Build a Girl" star's DIY idea was inspired by her current habit of wearing old sweatshirts and sweatpants that were left behind by her friends. With some of them already worn down and ripped up, she thought sewing them together would be a great way to recycle the materials into something functional while still highlighting her valuable friendships. 
"I'm not very good at sewing, but I really want to learn how to do that, because it's such a sweet way to keep all of those nostalgic pieces that I know I'm never going to actually wear, because they're ripped up or the elastic has given out," Feldstein told Domino. And she's not the only celeb who's gotten crafty during quarantine—Amanda Seyfried took up crochet and made her own blanket.
Feldstein also mentioned how aspects of her childhood bedroom have been incorporated into her adult space in New York. The actress has a bulletin board at her parents' house that she's been tacking ticket stubs and old photos to for years; her apartment's small gallery wall serves the same function—just in a more curated form.
Feldstein also reflected on her love for headbands, which never went out of style for her, and has continued to wear them since she was little. "I have an extensive collection that lives in my childhood bedroom, and then I have my own in my New York apartment," Feldstein said. "It's really fun to wear headbands that I bought when I was like, 15, and they're now back in." Plus, storing them on top of a mirror is a fun way to display them.