This Editor-Favorite Weighted Blanket Just Got Even Better (It's Velvet!)
We independently select these products—if you buy from one of our links, we may earn a commission. All prices were accurate at the time of publishing.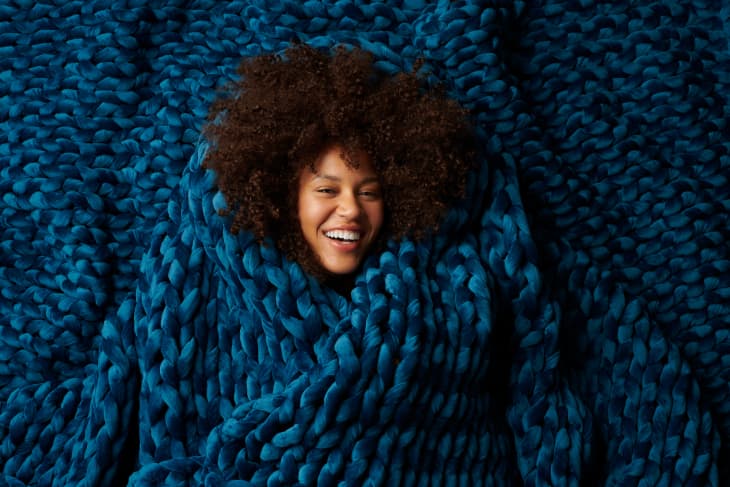 Velvet came back in a big way this year year, re-popularized in fashion, furniture, home decor, and more. I realized that it began to take off in bedding when I visited Target with a friend, and she raved about a velvet comforter that would be a dream in her ideal bedroom. Soon after, velvet was finding ways into my home as well, most notably in my blue velvet Albany Park sofa! With velvet on the rise, I couldn't pass up the chance to try Bearaby's Velvet Napper. The brand is one of my favorites for weighted blankets, and a twist on one of their classics was right up my alley.
Follow Topics for more like this
Follow for more stories like this
Bearaby's Velvet Napper is a seasonal upgrade from the best-selling Cotton Napper. Where the Cotton Napper boasts five-star reviews for its snug coziness, the Velvet Napper adds a layer of softness for ultimate comfort. Since I have so many blankets, I like to swap them out to fit the season; and the colors of the Velvet Napper are just right for winter. There are six total: Rose Quartz, Jade, Black, Silver Topaz, Sapphire, and the one I own, Tourmaline. The Tourmaline is a rich, deep reddish brown that makes it feel like the holidays are right around the corner! The 15-pound blanket was the perfect weight for me without being too overwhelming, but it also comes in 20 and 25 pounds for those looking for heavier options.
The brushed velvet fabric gives the Napper a luxurious feel, and the change in texture adds a vibrance to it that differs from Bearaby's other blankets. I love my Travel Napper for casual lounging, but the Velvet Napper is definitely the one to show off. The velvet looks gorgeous against the fabric of my sofa, even when it's haphazardly thrown around between lounging sessions. It's also super breathable because of its chunky-knit style, and doesn't get unbearably warm. Sometimes I need some extra pressure to get a good night's sleep and will layer it with my bedsheets, and I haven't overheated. As a hot sleeper, that was a pleasant surprise!
Chunky knit blankets are still incredibly popular, so if you're wanting to get one for yourself or someone you love, now is the time to do it without breaking the bank. The Velvet Napper is great for those wanting a weighted blanket with a touch of glam — but it's not so fancy that you'd be afraid to ever use it. With the cool weather upon us, it's a wonderful piece to add to your seasonal home comforts. I wrap up in mine whenever I can! For the best snuggles, it's a must.