Everything You Should Know About Bed Bath & Beyond Filing Bankruptcy
We independently select these products—if you buy from one of our links, we may earn a commission. All prices were accurate at the time of publishing.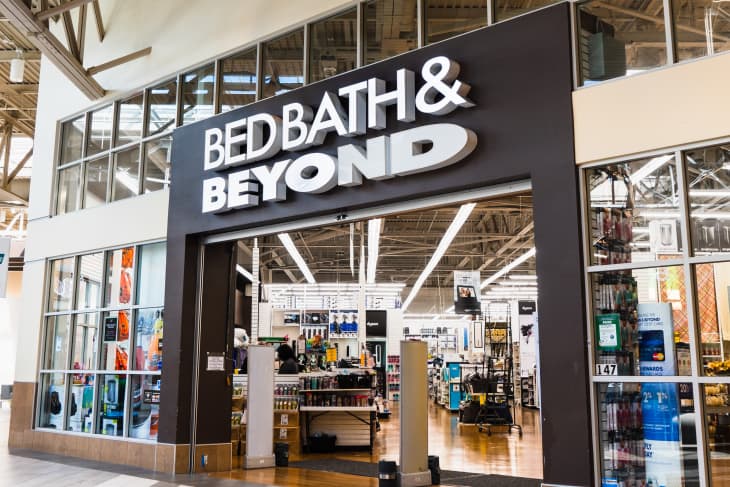 It's a sad time for coupon cutters, and Abbi and Ilana of "Broad City": On Sunday, beloved chain Bed Bath & Beyond filed for Chapter 11 bankruptcy protection, which means the retailer will close its remaining 360 Bed Bath & Beyond stores. In addition, 120 buybuy Baby stores, which are also owned by BB&B, will close. Known for their popular "Big Blue" 20-percent-off coupons and college dorm essentials, the retailer was once a pillar for linens and towels that often towered above the store's shelves.
Follow Topics for more like this
Follow for more stories like this
The store's cult shoppers still have time to shop the beloved store during the closing sales, and you'll have a chance to grab some towels, bedsheets, kitchen supplies, and more before the aisles are completely empty. If you're wondering about gift cards, coupons, membership, or refunds, we've answered some of the questions that might be on your mind about Bed Bath & Beyond's bankruptcy announcement. 
Why is Bed Bath & Beyond closing?
Similar to out-of-business stores like Circuit City and Toys R Us, the big-box retailer wasn't able to compete with online businesses like Amazon, Wayfair, and West Elm. Although they've made numerous attempts to keep business afloat, the store warned shoppers of its possible bankruptcy earlier this year in January.
When do closing sales start?
On Wednesday, April 26, Bed Bath & Beyond and buybuy Baby stores will begin their closing sales.
Can I still use my coupons and gift cards?
The final day to use coupons is April 25, so pull those remaining Big Blue coupons out of your mailbox and head to the store. However, you have until May 8 to use gift cards.
Can I use my rewards points?
Yes, you can redeem your Welcome Rewards until May 15, but they are no longer awarding Welcome Rewards on purchases. 
What if I'm registered for my wedding or baby shower?
According to their website, Bed Bath & Beyond has confirmed that your registry data is safe. Although registry items cannot be purchased through their platform, you're still able to view your registry, and the company plans to partner with an alternative platform to transfer your data and complete your registry. 
Am I able to cancel my membership and receive a refund?
Bed Bath & Beyond memberships are not eligible for refunds, but you can enjoy your benefits until closing sales begin on April 26.
Am I able to return something I purchased?
Items purchased before Wednesday, April 26, can be returned or exchanged before May 24. Purchases made during the closing sales are final and cannot be returned.