5 Ways to Make Your Bed Look Professionally Made, According to Home Stagers
We
independently
select these products—if you buy from one of our links, we may earn a commission. All prices were accurate at the time of publishing.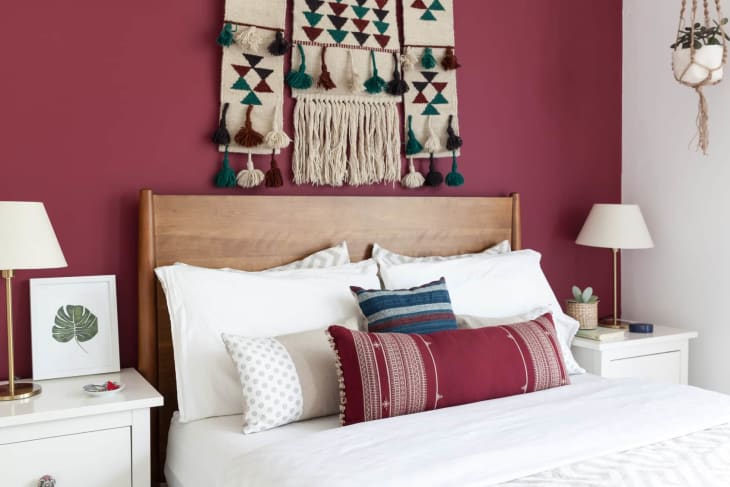 Much has been written about the advantages of making your bed. It gives you a sense of accomplishment. It makes you more productive. Some say it even relieves stress.
But we're not here to tell you what making your bed does psychologically, how it can help you reach your goals, or what making your bed says about your personality. We're here with some advice on how to make your bed look its prettiest. Ahead, professional home stagers reveal their best bed-making strategies.
Create depth with your color scheme
Adding dimensions to your look can easily be achieved by choosing complementary colors, or by going for different tones of the same hue. You can also create layers by folding the sheet over the comforter and pillows, then tossing throw blanket on top. Choosing contrasting colors for the two front pillow cases and the two back pillow cases can help do this, too. 
"We'll never miss a throw blanket at the foot of the bed," says Melanie Haselmayr, CEO of The Curated Group in Miami. Adding that extra layer not only makes the bed cozier, but more pleasing to the eye. "The color palette can either be light or dark, depending on the space," she says.
Layering blankets can take adding dimensions to the next level.
"We start with white sheets, then add blankets and a white coverlet, then fold those layers back by one-third with the flat sheet showing," suggests Christine Cowles, owner of Styled & Staged in Santa Barbara. "Then comes a fluffy duvet folded in thirds at the foot of the bed and Euro pillows to finish it off."
Some people make it a point to do this on a daily basis, transforming their bedroom into a luxe little getaway. But it could also be a trick that's reserved for the guest room or special occasions. 
Roll up blankets before storing them
There's nothing worse than getting your fresh sheets out of the linen closet, making your bed just so, then standing back to admire your work only to find the sheets are so crumpled that it ruins the entire look. Cowles and Haselmayr both suggest neatly rolling up blankets before storing them to avoid messy-looking creases and crumples. 
Steamers are great for getting the wrinkles out of delicate clothes you'd rather not iron, but they're also perfect for making your bed look top-notch. Going over your sheets, pillow cases, comforter, and bed skirt with a steamer will give your bedroom an elevated look, even if you only get around to doing it once or twice a year. Cowles suggests steaming the bedding in a guest room to make your visitors feel like they're at a hotel.
Everyone has a different way of making their bed. My sister, for instance, tucks the tops of her sheets and comforter under her pillows, while I roll them over. There's no one way to make your bed, but since you're the one sleeping in it, the pros say you should make it in a way that feels most comfortable and inviting to you.