This Obvious (But Genius!) Bed Sheet Storage Tip is the Free Alternative to a Linen Closet
We independently select these products—if you buy from one of our links, we may earn a commission. All prices were accurate at the time of publishing.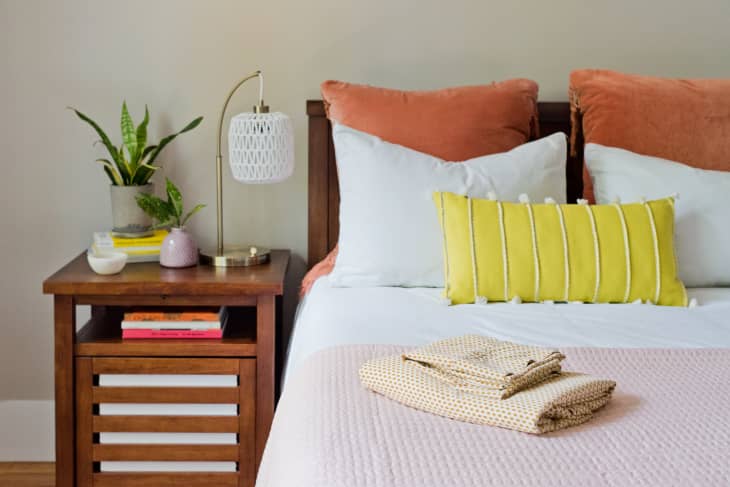 My first apartment after college was in the Upper East Side of New York. It was a tiny studio around 200 square feet, and the rent was more than I could afford. The space did somehow have two closets, which seemed generous at the time, but neither could have been more than two feet wide and even less deep.
Follow Topics for more like this
Follow for more stories like this
While I managed to find strange ways to make room for clothing and makeup and everything else, I always struggled to make room for one thing: bedding. In particular, finding room for extra linens and sheets felt impossible. More often than not, I simply pushed them into the very back corner of a shelf or drawer. Turns out, though, that the solution to my space issue was actually right in front of my face.
The hack for storing extra sheets? Put them under your mattress.
If you've ever lived in a small space, you know exactly what it's like to not only struggle to store your extra bedding, but then struggle to find that bedding—because you end up desperately stuffing it in a different area of your apartment each time. I can't tell you how many times I went to change my sheets only to realize I had no idea where I put the extra set.
Folding and putting extra sheets under your mattress not only saves you space, but also means that your sheets are exactly where you need them every single time. The trick here is to fold them wide: Skip the last one or two folds in your usual routine, so you're left with a larger, but flatter, folded sheet to tuck between the mattress and the bed frame or box spring. If you have multiple sheets to store, set them side by side instead of stacking, lest you end up with a princess-and-the-pea situation.
This tip is also helpful for storing seasonal bedding that isn't too thick or bulky (like the Christmas-themed flannel sheets I insist on using every holiday season).
An added bonus? This storage technique keeps the sheets dust-free since they're stored tightly under your heavy mattress. And if you really want to keep them fresh, try storing them with a few dryer sheets so they smell extra good when you take them out. Now, if you happen to have a super old mattress or one that you're not quite sure where it's been (hey, no judgment), then this might not be the strategy for you. But if your mattress is new or you've only had it a few years, this is a foolproof life hack. And, hey, if you've been looking for an excuse to buy holiday flannel sheets (again, no judgment), this as good of an excuse as any.