3 Things Making Your Bedroom Dresser Look Cluttered, According to Home Stagers
We independently select these products—if you buy from one of our links, we may earn a commission. All prices were accurate at the time of publishing.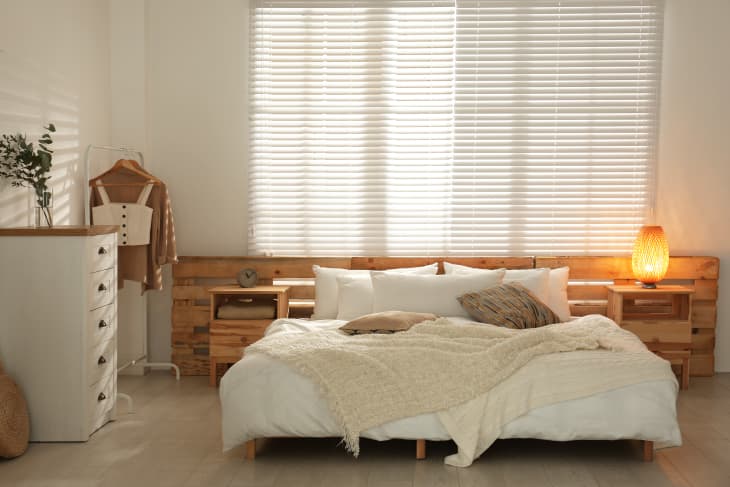 Dressers are a bedroom staple — a practical piece of furniture with the potential to add style to a space. From streamlined midcentury modern-inspired designs to models with mirrored drawers, most dressers also tend to serve another purpose, which is to hold everyday personal effects. 
Follow Topics for more like this
Follow for more stories like this
For many, the top of the bureau is often a dropping zone, which means that it can get cluttered — and fast. It's a small surface with a big impact on the rest of your room. Ahead, find three things that can easily clutter your dresser, according to home stagers, the professionals who make living spaces feel cleaner, fresher, and brighter.
"Your dresser can easily get cluttered if you have too much jewelry laying around," explain Elizabeth Shelton and Anna Franklin, designers at Stone House Home Staging in Milwaukee, Wisconsin. "Having a specific place to store them, like a jewelry box, can help remove some unwanted clutter and keep your jewelry in place."
It's great to keep out everyday jewelry items for easy access, but storing pieces that aren't used frequently will not only help keep your dresser neat and organized but will also help keep your jewelry safe and protected. 
Loose Bottles of Lotion and Makeup Containers
Depending on the setups in your bedroom and bathroom, you might get ready in the morning in front of a mirror atop your dresser, rather than in a bathroom with minimal counter space. While it certainly makes sense to keep everyday items within arm's reach on your dresser, the space can easily get hectic with old deodorants, lotion bottles, or makeup that doesn't get used very often. 
"The first thing you want to think about is: What are your daily needs?" Shelton and Franklin continue. "This will help you assess what you want easy access to as well as where you want the dresser located in your room."
For a clean look, the stagers suggest using boxes to help keep yourself organized. Decorative boxes can also add an element of your own style for personal items that aren't the prettiest to look at, like hairbrushes.
Clothing That Hasn't Been Folded or Put Away 
It can be all too tempting to toss a pile of clothes (folded or not!) on top of your dresser, especially if the drawers are already stuffed to the gills. As you probably guessed, home stagers aren't a fan of this.
"Marie Kondo has changed my life with her methods, specifically folding things a certain way so you can see what you're looking for," Shelton says. "A great way to do this is to separate drawers by items that are similar. For example, you can keep all your pants in the same drawer while using boxes or dividers within your drawer to keep things from getting tossed around." 
This way, you'll be less likely to throw a pair of socks or extra face masks next to your jewelry box, resulting in a clean, clutter-free dresser.