4 Bedroom Mistakes to Avoid When Selling Your House, According to Real Estate Experts
We independently select these products—if you buy from one of our links, we may earn a commission. All prices were accurate at the time of publishing.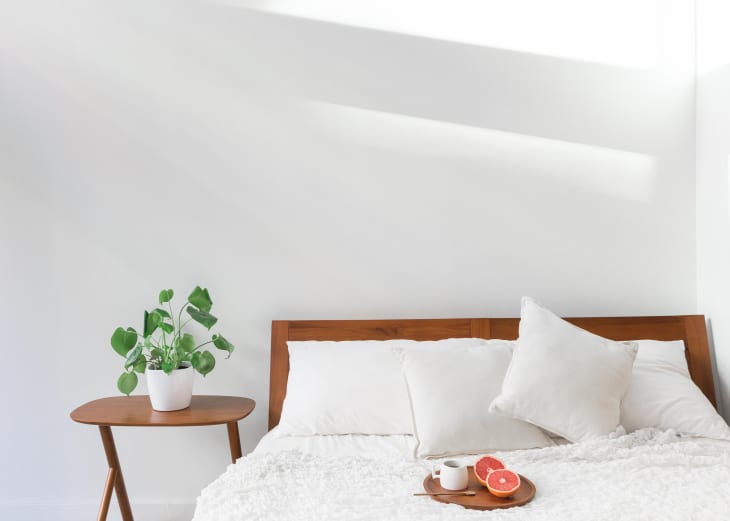 Are the bedrooms in your home putting potential buyers to sleep—and not in a good way? From nurseries to kids' rooms, guest bedrooms and main suites, it's important to showcase sleeping areas as relaxing refuges from everyday life. Here's how to transform these spaces so buyers can picture themselves having sweet dreams in your house.
Your bedroom is the designated dumping ground
Put a hand up if your bedroom features things like: abandoned exercise equipment, a "home office" corner that's really a folding table strewn with papers and an outdated desktop computer, piles of clean laundry you haven't had time to fold, or tired bedding from when you first moved in.
Ditch the clutter and attract buyers with a commanding focal point, like an awesome headboard or accent wall, suggests Lisa Mara Bry a Realtor at KW Vermont and co-owner of Farm Home Co., a design-build company in Stowe.
"We use wood accents like shiplap, a lathe wall, vertical straight-edge paneling, or beadboard to give walls texture and dimension," she says.
Bry explains that low-profile bed frames can help make a room feel bigger. "Stay away from matching or bulky furniture sets, and mix and match styles that coordinate but aren't the same color or wood tone," she says.
You also shouldn't shower or use the ensuite restroom within a few hours before an open house so they can be show-ready, adds Katie Walsh, a realtor at the Walsh Team in Tempe, Arizona.
Your nursery doesn't deliver
Just because a baby sleeps here doesn't mean this bedroom should look cramped and boring. 
Stick to gender-neutral paint colors, advises Bry, and steer clear of decals on the walls, which can feel cumbersome and permanent.
"Wallpaper is definitely back on the design scene, so try a removable peel-and-stick wallpaper instead to add some pizazz to the space," she says. "There are some great new companies making this product with really fun choices."
Buyers who don't have children might want an office or TV room instead of a nursery, so appeal to the space's potential by tricking the eye into thinking it's bigger, adds Walsh.
"Black-out shades should be removed, because they make the room feel very dark," she notes. 
Your kids' bedrooms look like a kaleidoscope
If your child's room contains several toppling towers of toys, buyers will assume your house doesn't have adequate storage. 
"Make the room feel more like a guest room and less like your child's trophy case if you're prepping to sell," advises Bry.
That means stashing games, stuffed animals and toys in baskets that can be stacked in the closet.
"Limit furniture, and avoid bright colors like hot pink and lime green," adds Walsh. "And scrape off any stickers from doors or windows."
Your guest room has no glam factor
It's natural to want your in-laws to have plenty of space if they're restless sleepers, but cramming in a bed that's too large for the room is a big no-no, says Walsh. And buyers probably won't appreciate picturing their overnight guests surrounded by storage bins, adds Bry. 
"Less is more, so don't stuff the room with furniture and storage," says Bry. "Organize and purge any unnecessary household items, and use all-white bedding, which is easy to clean and looks inviting." 
In all bedrooms, avoid staging the bed against a window; have room to walk on either side. 
"Add accessories to make the home feel like you're about to host a party and the buyers just walked in," says Bry.