Can We Make Over This Rental Bathroom for Less than $500?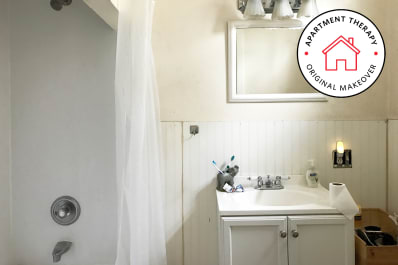 Erika's young and doesn't spend an arm and a leg on rent. Sure, her bathroom is functional, but all those shades of off-white are a style travesty that could make even the most stalwart of tenants cry beige tears. It's a rental, so nobody wants to go nuts and spend a lot of money to renovate it, but Erika wanted something a little more fun and befitting her age. So, the goal is to give her an entirely new, bright, amazing bathroom for $500. Think we can do it?
Here's how Erika's bathroom looked in the beginning, and our plan for a 100% landlord-approved low-budget remodel:
Builder Grade Everything: I have no problem with big hardware chains, but clearly this bathroom was done by someone who walked into one store and bought the most basic of each fixture — toilet, vanity, and light — then called it a day. Which is fine, if you don't care, but for the style-minded, this is like bleeding from your eyeballs.
Verdict: Come up with a design plan that's a little more custom, and has some thought and personality behind it.
Oddly Installed Paneling: At some point the owner put up sections of beadboard on the lower half of the wall. It's not finished off with trim and all the seams are highly visible. There aren't any faceplates for the light switches and outlets. Overall, everything looks slapped on and unfinished.
Verdict: Take down that poorly installed paneling and, once we figure out what's behind it, either repair the walls or replace the paneling with something else.
Lots and Lots of Beige: Neutrals have their place, but, combined with all the other issues, this bathroom's lack of color gives it a dingy and depressing air.
Verdict: Brighten this bathroom up, and add some color somewhere that feels more cheerful and youthful.
Chipped, Unforgiving Floor: The floor is what it is. And what it is is hard linoleum that's seen better days. If it were a basic white tile, no problem, but the weird mottled beige does nothing for the bathroom, and just adds to the ennui.
Verdict: Either cover the existing floor with another budget-friendly option, or camouflage it with a rug or bathmat.