Before & After: What a Difference a Coat of Paint Makes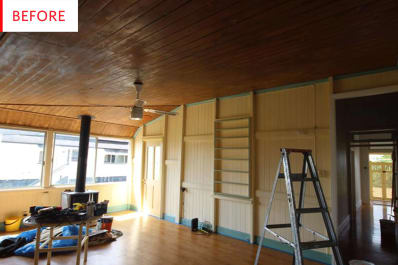 (Image credit: Submitted by Emma and Matt)
Emma and Matt bought a home in Ipswich for its old world character and its affordability. But most of the time "character" often comes with a huge list of DIYs and needed renovations. This home had a particularly dated living area and kitchen that, despite the big windows letting light in, felt quite dark.
The living area and kitchen of their home was very dated with the yellow walls, green trim, not to mention the dark wooden ceiling and kitchen cabinets.
(Image credit: Submitted by Emma and Matt)
Opting to freshen up the interior of their home with Dulux Antique White USA, the paint color is complemented with painted cabinets and handles, new wooden countertops, a new sink from IKEA and open shelving above the subway tiles.
Emma and Matt's home now has a bright and happy feel, deserving of the home's nature and locality.
Thank you Emma and Matt!