Before & After: A DIY Bathroom Disaster is Made Good Again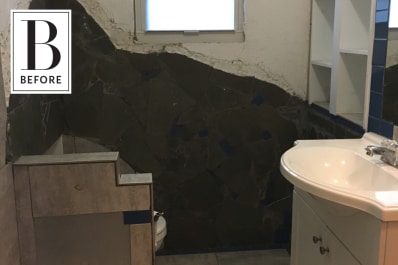 (Image credit: Chase Simmering)
Chase and her husband bought a 1937 Key West-style house in Palm Grove, Miami and it came with a serious bathroom disaster. In a DIY job gone horribly wrong, the bath had serious structural issues, not to mention some very interesting (ahem) design decisions — neither of which did the home any favors. Chase was also itching to fulfill her dream of designing a room from start to finish, then actually enjoying it as her own. Then Hurricane Irma came.
(Image credit: Chase Simmering)
In its previous life, the dark and dingy bathroom floor wasn't properly supported before the previous owners added the shower, so there was sagging and rot down below. The walls were embedded with random plates, teacups, gemstones and rocks (that's the black substance on the wall in the lead image). In other words, the bathroom was just a mess from start to finish, and so not Chase's style.
(Image credit: Chase Simmerling)
And here's the coup de grace: the columnar shower was built into the wall, which protruded out into the dining area, seen above. There's no coat of paint or new shower curtain that's going to conceal that eyesore.
But here's what it looks like today:
(Image credit: Chase Simmering)
Chase wanted a beautiful bathroom that worked well for them and their two kids. They love natural light and are really happy with how bright and clean the bathroom feels now. The small space is both minimal, yet functional. The total cost was $13,225, including labor and materials.
(Image credit: Chase Simmering)
The whole project took five weeks from start to finish. They were in full demo mode when Hurricane Irma struck, so workers showed up with generators in the aftermath, so everyone could keep working.
(Image credit: Chase Simmerling)
They expected to see some bad plumbing going in, but everyone was shocked to found all the pipes resting on the dirt floor of the crawlspace above, and rotting foundation beams. They wound up replacing the pipes, and reinforcing the foundation.
(Image credit: Chase Simmering)
Chase saved a ton of money by buying all the fixtures and the bathtub on Amazon. The biggest splurge was the floor tile from Clé Tile, but it's their favorite thing about the space. They used a local contractor, Pablo Olivares, and provided him with detailed renderings of her designs.
Resources
Shower Curtain Escutcheons: $57.98 from Houzz
60" Shower Rod Field Cut, Satin Brass: $85.99 from Houzz
G16 Clear LED Bulbs: $48.00 from SchoolHouse Electric
Amber Mirror: $249.00 from Schoolhouse Electric
Ellerbe Sconces: $458.00 from Schoolhouse Electric
Toto Wall Mount Toilet: $357.50 from Farreys
Toto In-Wall Tank: $364.101 from Farreys
Toto Dual Flush White: $50.60 from Farreys
Toto c200 Washlet: $718.58 from Farreys
Daltile Subway Tile: $374.00 from Home Depot
Encaustic Floor Tile: $641.28 from Clé Tile
Kohler Sink: $191.63 from Amazon
Kohler Alcove Bathtub: $999.00 from Amazon
Wall-Mount Sink Faucet: $556.95 from Amazon
Kohler Purist Shower Faucet: $690.30 from Amazon
GODMORGON Sink Cabinet: $429.00 from IKEA
Labor: $5,000
Total: $13,224.72 (including shipping and tax)
Apartment Therapy supports our readers with carefully chosen product recommendations to improve life at home. You support us through our independently chosen links, many of which earn us a commission.