Before & After: A Living Room Gets "Light and Bright"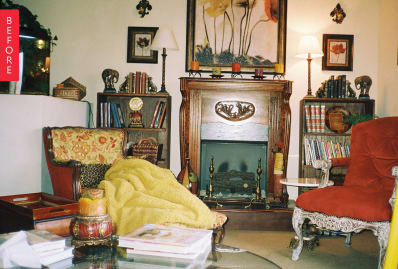 (Image credit: Submitted by Charisse)
This little corner recess in my rental apartment living room had gone through many changes over the years. That is until I found this gel fuel fireplace that was within my budget. Once it was delivered and put in its place, I realized it looked very small and toy like. My dad built a small hearth for it to sit on and the bookcases to fill in the empty space on either side. I was quite happy with the outcome, at the time.
(Image credit: Submitted by Charisse)
After a couple of years of what I call my "Eclectic Country French" phase, I decided I wanted a more light and bright living room. I wasn't sure how I wanted to achieve the look I wanted, so I poured over living rooms online and in magazines. The living rooms that spoke to me the most all had one thing in common, a white fireplace.
I loved the grain on my fireplace and I knew once I committed there was no turning back, so it took me awhile to make up my mind. But after a few of months of back and forth, wishy washy, getting on my own nerves decision making, I finally went for it.
A couple of gallons of paint and some "new to me" chairs along with a new area rug changed my once dreary (but me) living room into a bright cheery (more me) home.
Thank you, Charisse!