Before & After: A Dated Home Becomes a "Modern Mediterranean Retreat"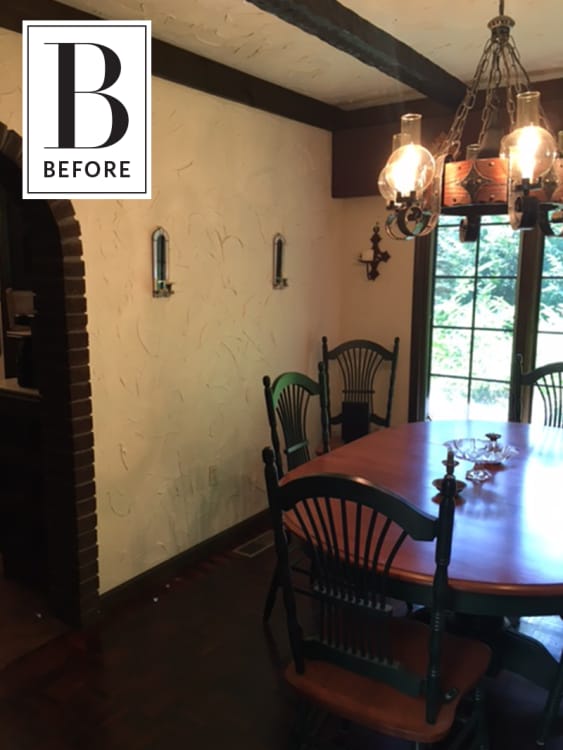 (Image credit: Submitted by Ayanna)
We took a look at Ayanna's gorgeous weekend getaway before, but we were really curious to see a little bit more of what the space looked like before Ayanna worked her magic on it. Dark and a bit dreary, but full of potential, Ayanna truly made the best parts of the house sing while giving it the update it so sorely needed.
(Image credit: Submitted by Ayanna)
From Ayanna: My partner and I brought the house in Woodstock for two reasons: we love the Hudson Valley and we needed a vacation home. A place away from the city with all the space we couldn't get in NYC; a little retreat that we could enjoy as well as visitors (short term guests like Airbnb and HomeAway.) We bought the house in the fall of 2016 because of the beautiful original charm. I loved the archways, high ceilings, wood beams, original parquet floors, large outside deck and the heated salt-water pool!
There were necessary updates that needed to be done including updating all three bathrooms, removing carpeting and the stucco off of the walls. The original bathrooms were very '70s. I knew I needed to maximize the space while maintaining my tight budget. The plan was to bring lots of light into the entire house.
(Image credit: Submitted by Ayanna)
I always had plans to renovate the house. I saw all the original charm, it just needed to be brought into the 21st century, a modern Mediterranean retreat. Gut renovating the bathrooms was a must, as well as removing the carpeting throughout the house and replacing it with bamboo floors. The kitchen is on the future renovation list. I learned along the way that kitchens are very expensive to renovate. We would also like to raise the ceilings in the kitchen, dining room and den. For that reason, I did not remove the stucco from those ceilings. I didn't want to unnecessarily increase my cost.
Finding a contractor was the hardest part and ultimately I wasn't very happy with the one that I hired. I asked many local sources for recommendations but was unable to find a reliable person. I ended up hiring someone from
Houzz. Removing the stucco from the walls was a complete nightmare. It was very expensive. The subcontractor left my house a complete mess. It looked like it snowed in the entire house. Even after cleaning and painting, we still find remnants of white dust throughout the house. The removal of the stucco plus painting of the house cost about $14,000.

(Image credit: Submitted by Ayanna)
Renovating the bathrooms was the hardest part of the entire process. In order to save money, I was the designer. I studied interior designer magazines and blogs. At times it was very daunting—all the details from fixtures, transfer valves, finishes and tiles, on and on. I found myself drawn to white, white bathrooms and gold finishes. I wanted the master bathroom to be bright especially since it was so dark and uninviting originally. I found all the tiles in the master bathroom including the floor, tub, marble lining and threshold at The Tile Shop. I purchased the tub bathroom floor tiles from All Modern.

(Image credit: Submitted by Ayanna)
The fun bathroom tiles were purchased from Overstock, including the hexagon cobalt blue tiles. For the "fun bathroom," I knew from day one that I wanted this bathroom to be lively and striking. I came up with the concept collaborating with my close friend (not a professional designer) to incorporate the stripes along side the gold finishes and glossy tiles.

(Image credit: Submitted by Ayanna )
Biggest setback was the disputes with my contractor who towards the end of the project disappeared for over a month with most of the final payment already made. Another major setback was the tub bathroom vanity that I order custom from Etsy. I would tell other home renovation owners to steer clear of Etsy when it comes to big-ticket items and large custom pieces. The vanity I brought was supposed to be a reclaimed wood vanity. Instead I was sent a very cheap pine wood vanity that was broken. Not only did the order take an additional month to be delivered, it was delivered damaged, the quality was misrepresented and the seller was unwilling to replace it. It also took a lot longer than I had planned for the completing the project. I had estimated three months, which I thought, was an overestimate. Instead it took double that time. A lot of the wasted time was the fault of my contractor, vendors and my own rookie mistakes. In total the renovation cost about $50K including labor and materials.

(Image credit: Submitted by Ayanna)
I'm 90% happy with the final results. I love how bright the house is now that the stucco has been replaced with white walls. I love the transformation. The house is like a whole new place. There are minor design items I would have done differently. I really wanted a niche by the bathroom sink for candles. The contractor just never installed it!! I definitely maximize the small
bathrooms by bringing in more light with lighter tiles and bold finishes. Removing the stucco from the walls and painting a bright white made a big difference in bringing in more light to the house. Though the house was full of amazing Mediterranean details, it was also stuck in an older era and needed to be modernized. We are very happy with the results. Currently, we are working on the outside of the house. We are completely remodeling the
side garden to incorporate a lovely green area with blue stone, fresh grass, fire pit and a dining area.
(Image credit: Submitted by Ayanna)
For other homeowners considering renovations, I would recommend using personal references for a contractor. A lot of headaches and money could have been saved if I had worked with people who were more professional and transparent. As a first time homebuyer and my first time ever renovating a property, I was a complete rookie. I cannot bash my contractor completely because he did help a lot during the beginning of the renovations. I couldn't
afford to hire a designer so it was very stressful coming up with design concepts, purchasing the correct materials and living 90 miles from the house!! Be very organized! Write down your budget and breakdown the numbers. I started an excel sheet that was constantly being reworked. You want to know where you are spending money, where you can save money.
(Image credit: Submitted by Ayanna)
(Image credit: Submitted by Ayanna)
Also, make a timeline and try to keep vendors to that schedule! Projects almost never end on schedule, so add padding time. Also order your materials like vanities and tiles, fixtures and faucets ahead of time! Deliveries are always delayed, items arrive damaged, items don't work once you see them in person (for online purchases which is more affordable in most cases). If I was onsite more often, I would have made minor changes that I could not change later once it was already installed. If you are like me, renovating a house that you don't live
in or are close to the site location, finding someone you trust locally is a most. I did not do this! Big mistake. I have someone I trust now that helps me maintain the short-term rentals. She is indispensable.
(Image credit: Submitted by Ayanna)
(Image credit: Submitted by Ayanna )
Thank you, Ayanna!