Before & After: A Tile Swap Breathes New Life Into A Fireplace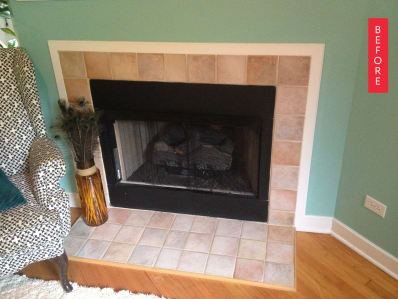 (Image credit: Submitted by Angie )
I recently remodeled my kitchen and had leftover subway tiles. I decided to use the remaining tiles to redo my fireplace which I had been wanting to refinish completely since I moved in four years ago. I also wanted to remove the tiles on the floor, but we didn't think the hardwood carried through since other units who had redone their fireplace told us that theirs did not.
(Image credit: Submitted by Angie )
We demoed the ugly terra cotta tiles and to our great surprise, the hardwood DID carry over under the tiles AND it was in great condition. I decided to leave the floors and only retile the face. We used the remaining tiles to create a herringbone pattern and extended the tiled surface area to create a nice finished look. We also used a different wood molding around the tiles. We love the new look and the cost was minimal.
Thank you Angie!