Before & After: A Year-Long Living Room Transformation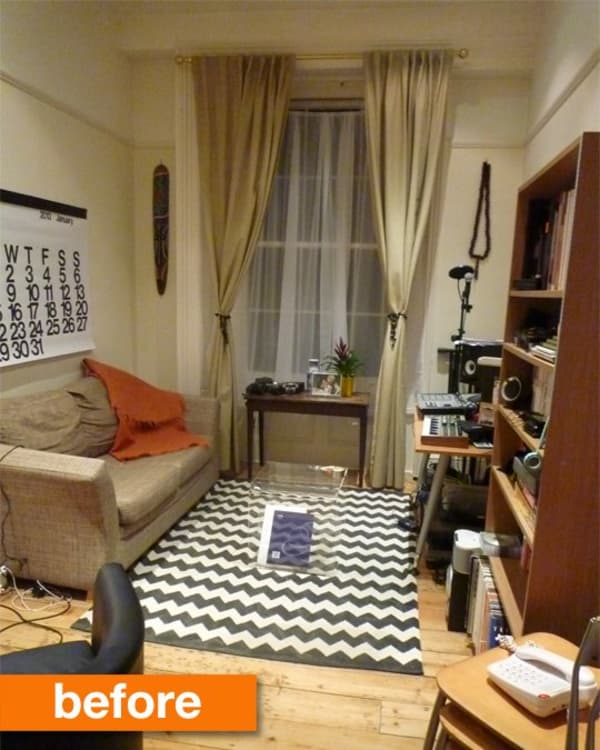 (Image credit: Ferren)
You know how earlier today we shared real advice about how to be patient and take your time when decorating a home? This Before & After perfectly highlights that idea. See this living room go from full of uninspiring hand-me-down furniture to a living room that, after taking the time to discover their tastes, is now a sophisticated, lovely space that matches their personality!
From Ferren:
Like many 20-somethings, at the start of last year I looked at my flat and realized my husband and I had a lot of ugly hand-me-down and bad flat-packed furniture. Up to that point, I'd tried to mix in pieces I thought I liked, but I didn't really have an understanding of my style yet, so some of those additions were BAD.

After reading a lot of blogs and doing a lot of pinning, I came to get a better understanding of my taste and I started making over my flat a little at a time. The original goal was to brighten the space with lighter-colored furniture, and once we got started other pieces started looking more and more out of place. Slowly we've replaced most items and acquired pieces that we think really represent our personality.

This is still a work in progress, and there's much to do throughout the rest of the house, but I think we've come a LONG way, and I'm so pleased with the changes.
See more photos of this living room transformation on Ferren's blog, ArtCream.
Thank you Ferren!
Re-edited from a post originally published 3.8.14-NT