Before & After: Almost-Tossed Items Become Chic Seating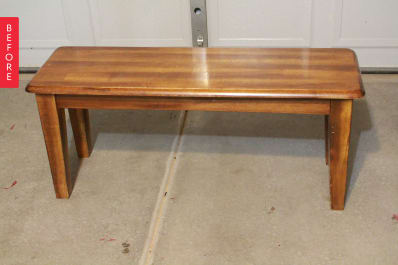 (Image credit: Letisha)
An old piano bench and a rug destined to be donated came together to make a stylish statement piece. Just goes to show that you might want to take a second look in your outbox!
From Letisha:
As I was talking to my client about all the new furniture she wanted to buy for her home I saw this sad little bench set aside. I asked her if I we could do something with it? She really thought I was crazy! We walked a little further and found a beautiful indian rug rolled up in the corner ready for the donate pile. I asked her if I could use the rug in my transformation. She was more than happy to let me have my way with it. One Saturday afternoon, a little paint and nail head and Lickety Split! We have an AMAZING bench! That is one less furniture piece we have to buy now. She was so happy to see the end result.
For step by step photos, check out Blue Eye DIY.
Thank you Letisha!