Before & After: Closed-Off Condo Opens Up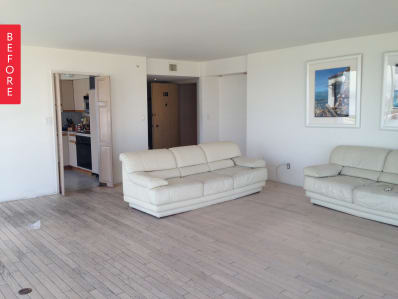 (Image credit: Submitted by Jessica)
This condo hadn't been renovated in 20-plus years. The owners called in Jessica Nicolls of Bungalow 56 to give it a fresh and open feel, worthy of its San Diego Bay views.
(Image credit: Kristen Vincent Photography )
From Jessica:
The last time this condo was remodeled was 20 years ago, which was very apparent the moment we stepped inside this dated space with our client. With sweeping views of the San Diego bay this condo's layout was anything but accommodating to the stunning sight out the windows. The kitchen was closed off to the living space and it took everything in our power to not pick up the nearest object and start tearing the walls down ourselves on our first visit. The original condo had been well loved over the past two decades by our client's large family and it was finally time to customize the space to their needs.

We took down the obtrusive walls that enclosed the kitchen, updated the flooring and created custom built ins to maximize storage. Now this condo takes your breath away as you enter!
See more after photos at Bungalow 56.
Thank you Jessica!