Before & After: From Boring Beige to Black & White Beauty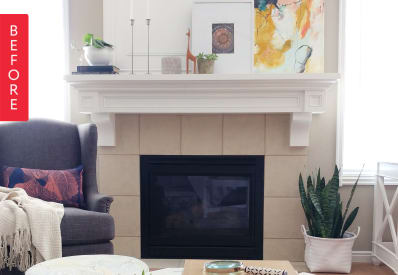 (Image credit: Submitted by Krystal)
Krystal looked at her beige fireplace and saw a blank canvas. She got to work painting tiles to bring some pattern to her living room.
(Image credit: Submitted by Krystal)
From Krystal: I started with a piece of wrapping paper, it was the best paper I had to cut to the size I needed for the tile stencil. After priming and painting the tiles white, I worked on sketching the pattern on the paper which took quite a while, and trust me it's not perfect! I used a razor blade to cut the stencil out. Next I traced the design on each tile with the template and finally I began painting the sharp lines with a little angle brush and charcoal gray paint.
Thank you, Krystal!