Before & After: Kitchen Gets a Key Update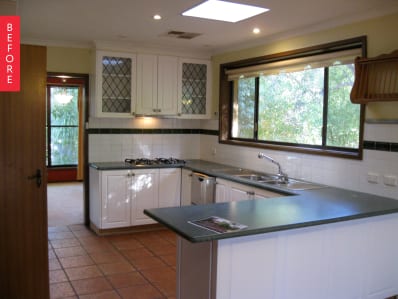 (Image credit: Lisa Barrett)
Lisa's kitchen was in need of an update. Realizing the faux terracotta tile wasn't working, but not wanting to commit to a full retiling of the whole space just yet, she came up with this graphic Greek solution.
(Image credit: Lisa Barrett)
From Lisa:
When we bought our house a year ago, the kitchen was out-of-date and needed a refresh. We decided to keep the cabinets, as they were in quite good condition, but there was not much else to love!

We changed out the damaged bullnose laminate bench tops for Caesarstone Frosty Carinna with square edge, and changed the overhang of the breakfast bar so that it was no longer in a walk way and can seat four now.

I also had the leadlight glass changed for plain glass in the overhead cabinets, and wallpapered the back of those cabinets. I applied pretty gem-like pulls from Anthropologie throughout and had the splash back retiled in basic subway tile which we had left over from a previous bathroom reno.

While all of those changes made the kitchen feel cleaner, my major bugbear was the grotty, pockmarked (by design) faux terracotta floor tiles which just seemed dirty all of the time. We weren't ready to commit to re-tiling — as a change of layout in the future is possible — so without being able to put up with them any longer, I painted them!

I used a primer specifically for glazed tile, followed by black garage floor-rated gloss paint, then taped up my Greek Key design and painted the white. The effect makes me LOVE my kitchen now, and goodness only knows I need that kind of motivation to spend time in the kitchen — and now I've got it!

Of course, any good DIY advice will tell you that tile floors should not be painted, and I agree, already there are placed which will need touch ups. This certainly was never going to be a permanent floor, so I thought it should have some crazy fun while it lasts — hopefully 12 months or so!
Thank you Lisa!