Before & After: Old Radio Sings a New Tune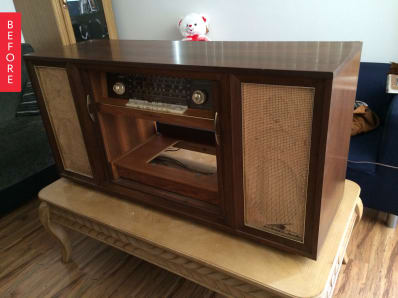 (Image credit: Anna Mkhikian)
Though this old radio is showing its age, it was a bargain at $25, especially given its quality (and that it still worked!). Now, to make it beautiful again...
(Image credit: Anna Mkhikian)
From Anna:
My brother bought me this amazing old school radio cabinet from Craigslist for my birthday. He got it for a cool $25 from a 91 year old man who hadn't even posted a picture of the cabinet - my brother just happens to be a radio cabinet enthusiast and recognized the listed brand name as top of the line. The wood was in great condition except for the legs, which we sanded and stained with Minwax Dark Walnut. We then treated the whole cabinet with a coating of linseed oil to refresh the wood.

The speakers were covered in an old and stained fabric which was really an eye sore. We tore those out and decided to replace them with custom laser cut wood panels, which I designed and cut using the awesome laser cutter at my office. Lastly, I replaced the worn plastic handles with pretty and subtle metal ones from Anthropologie. I think the final product looks pretty sweet (and sounds great too).
Thank you Anna!