Before & After: A Completely Colorful Home Office Makeover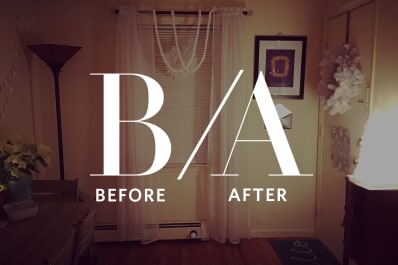 (Image credit: Matthew Brys Yee Photography)
Alycia just launched her own business and found herself in need of a dedicated at-home workspace. Surprisingly enough, building a budding empire didn't leave much time for setting up a new space. Enter, the best friend! Alycia's bestie put together a work from home space that is bright and bubbly and totally her.
(Image credit: Matthew Brys Yee Photography)
From Alycia: I live in a one-bedroom apartment, and due to my busy schedule and having just launched my own business, I don't use my dining room much. It was mostly used as an entryway and a "catch-all" type room for keys, coats and storage.
(Image credit: Matthew Brys Yee Photography)
Since launching my boutique multimedia agency, I'd wanted to create a home "office nook" in my apartment where I could have a designated area to sit and do my best work. Little did I know, my best friend (who is also my business manager) had been secretly shopping for weeks in order to surprise me with the home office of my dreams!
(Image credit: Matthew Brys Yee Photography)
After several weeks of shopping and planning he built and decorated this entire space in just FOUR HOURS while I was out running errands. He shopped mostly on Amazon Prime, with a few covert trips to HomeGoods, to gather items that fit my quirky and colorful aesthetic. I am not sure how much it cost and I don't want to know!
(Image credit: Matthew Brys Yee Photography)
I am still absolutely amazed by the "after"! When I walked in and saw all of that in front of me, I could not believe my eyes. All the inspirational artwork and funky accessories in cheerful hues... it's amazing. My friend knew I had been feeling stressed and that I really needed a true office space of my own where I could sit and create.
Anyone who knows me knows that I am drawn to pretty much anything multicolor and fun— so I love that he included a rainbow unicorn tape dispenser! Another friend of mine came over to see my new office and said, "this is so you it hurts." I love waking up in the morning and sipping coffee in my colorful, happy place. And my productivity has shot through the roof!
(Image credit: Matthew Brys Yee Photography)
Alycia's words of advice: HomeGoods is awesome for inspiration and has fantastic prices. Other than that, keep a Pinterest board or start an Instagram hashtag for ideas you like. But most important, get yourself an absolutely incredible best friend like I have!
Thank you, Alycia!
Apartment Therapy supports our readers with carefully chosen product recommendations to improve life at home. You support us through our independently chosen links, many of which earn us a commission.