Before & After: We Survived Our First (Mostly) DIY Kitchen Reno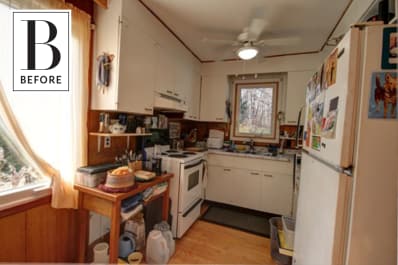 (Image credit: Submitted by Michelle )
Michelle and her husband bought their house with the anticipation of putting in some serious work on the kitchen. What they didn't expect was a handful of undisclosed damages and, as first time renovators, just how much time a kitchen reno can take. But they survived! Smarter, saavier and with a much better kitchen.
(Image credit: Submitted by Michelle )
From Michelle: We spent almost a year looking at houses before we came across our current home. It was a really good price, on almost an acre of property and in a great neighborhood. However, the interior was awful. Cheap wood paneling EVERYWHERE, ceiling tiles EVERYWHERE, the main floor was broken up into several tiny rooms and the kitchen and bathroom were original to the house (1953). In spite of its incredible ugliness we bought the thing. Nearly a year later the house ain't looking so bad, and Sean and I haven't killed each other. Not too shabby.
(Image credit: Submitted by Michelle )
We renovated about 85% of the house in a span of five months. We had anticipated being done in a month, but we were so, so naïve and ran into so, so many setbacks (undisclosed fire damage, undisclosed water damage, updating ALL the electrical and plumbing etc etc...) Thank jebus Sean and his dad are so damn handy. The only work we hired out was mudding and taping the drywall and refinishing the hardwood throughout the house. The cabinets and most appliances are IKEA, the quartz countertops we got for a steal because Sean "knows a guy" and it being a tiny kitchen helped keep our budget around $11K.
(Image credit: Submitted by Michelle )
There is a lot of empty space next to the fridge and behind our island, I would like to add a pantry to utilize the most amount of space possible and get as much storage space out of our tiny kitchen. It still needs some finishing touches, there are filler pieces missing and it still isn't styled quite right, but we have lots of time for that.
I love that we were able to make our first home really ours. I'm so proud of what we were able to do.
(Image credit: Submitted by Michelle )
Michelle's words of wisdom: Be nice to each other. Renovating isn't fun, but remember it's only temporary.
Thank you, Michelle!