Before and After: A Craftsman Reinvigorated by a Thoughtful Remodel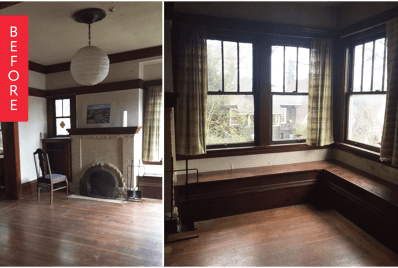 (Image credit: Submitted by Brett)
Interior designer and stylist Brett and her husband Brandon bought a 1900s Craftsman house in Oakland, California in March of last year, but they couldn't move in right away. The architectural charm was immediately obvious, but it also needed a lot of work. A renovation was definitely in the cards.
(Image credit: Submitted by Brett)
"Everything from the custom built-ins to the wood columns, ceiling beams, wall paneling, trim, baseboards, and crown moulding was part of the original design of the 100-year-old home and the level of craftsmanship isn't something you typically come across in many homes these days," writes Brett. Both Brett and Brandon prioritized preserving the most important elements of the home as they worked to bring their own style and personality to the space.
Brett says their biggest challenge was figuring out how to bring a modern feel to the space while still keeping the architectural charm. "We wanted to achieve a modernized feel while still preserving the original wood detailing but knew in order to do that some of it had to go and/or be painted, which felt like we were committing some kind of sin. Ultimately we got over the fear and pulled the trigger on removing some of the crown moulding in the living room, painting some select baseboards and built-ins and then refinishing/staining some of the trim."
"We love the end result and are amazed at how much bigger and modern that half of the house feels without taking away any of the original charm," writes Brett.
---
Thank you Brett and Brandon!