Before and After: A Dark, Dated Kitchen Gets an Unbelievably Beautiful Update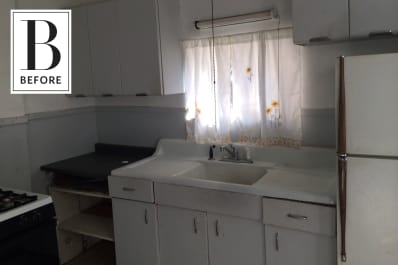 (Image credit: Submitted by Nicole and Dan Lucey)
The kitchen in this Brooklyn brownstone — before its reinvigorating renovation and revival — was dismal. Dark, dated. Grimy and greasy. Peeling paint, cracked walls and a floor you wouldn't want to walk barefoot on. The whole home needed a lot of work, but the kitchen perhaps most so. After all, for many families the kitchen is the heart of the home. The hub of action. The hangout space of party guests. Nicole and Dan's pre-remodel kitchen just wasn't the kind of place you'd want to spend any time in.
(Image credit: Submitted by Nicole and Dan Lucey)
All of their home is a well-designed balance between traditional architecture and modern flair. And the kitchen is no different. Classic materials like marble marry beautifully with brass accents and traditional cabinetry. But showstopping and shapely wall tile — that reaches all the way to the ceiling — adds a modern twist that gives character to the whole room.
I love that the kitchen, though on the smaller side, doesn't feel cramped at all. That's likely due to the big picture window, the light color scheme, and the ample storage that allows much of the kitchen clutter to be hidden away.
(Image credit: Submitted by Nicole and Dan Lucey)
Nicole and Dan worked with architects Wendy Cronk and Erin Cowhey Design and contractors Versatile Renovations NYC to help with the renovations. Together, the team was able to create a bold kitchen that also blends with the rest of the home. It's a room that's visually strong enough to stand on its own, but not so loud that it takes attention away from the rest of the home. Located at the end of the first floor and visible from a few main rooms, it's a perfect melting pot of all the home's styles — and a room you might actually want to stand over a pot in.
Thank you Nicole and Dan!