Before & After: A Dramatic Living Room Inspired by the Night Sky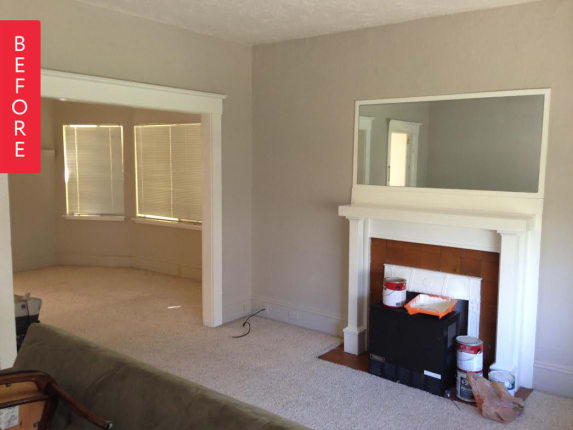 (Image credit: Submitted by Joseph)
Joseph took a pretty beige living room and livened it up with some beautiful paint choices, crisp new carpet and a super-special prop from a Hollywood hit. Taking inspiration from the night sky, he proves you don't have to overhaul a space to give it a totally new feel.
(Image credit: Submitted by Joseph)
From Joseph: We refreshed the living room with new, lighter carpet and layered the area with colors and textures found in the night sky. The statement wall was painted in Benjamin Moore's Soot, and the baseboards and ceiling were painted white to help brighten the space. The new paint alone, created an entirely different atmosphere and transformed and modernized our typical apartment room found in Oakland.
Perhaps our most favorite piece is barely seen in the picture, a 4'x6' hand-painted, cloudy night scenery, originally used as a backdrop in the movie, The Nightmare Before Christmas. It hangs opposite the mirror and its reflection is the first thing guests see when they enter the room. The mixture of blacks, grays, and blues in the clouds create an illusion of deeper depth within the black wall when looking directly at the mirror.
(Image credit: Submitted by Joseph )
With the addition of our first baby, we expect our living room to see many more toys, and we're excited to continue its organic transformation as a family!
Thank you, Joseph!