Before & After: A Memphis & Facts of Life-Inspired Nursery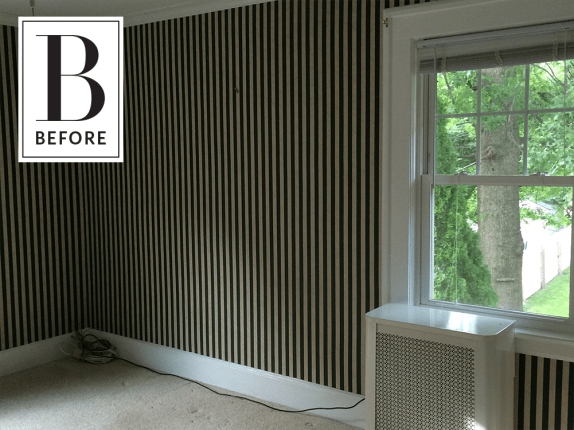 (Image credit: Submitted by Jessica )
When Jessica and her husband moved into their home they knew that they would need to do some serious updating. They took off the Beetlejuice wallpaper in their guest room and when it came time to turn it into a nursery they decided to go full fun. A little bit of Memphis, a sprinkling of Facts of Life, a dash of FAO Schwartz and you have a super cute, very unique nursery.
(Image credit: Submitted by Jessica )
From Jessica: When we purchased our 1926 colonial home, all three bedrooms had ugly wallpaper (and not cool-ugly, just ugly-ugly), berber carpet and those horrible ceiling fans that look like they belong in dirty ice cream parlors. Before we even moved in, we tore up the carpet, had the oak floors refinished, scraped off the wallpaper, and replaced the fans!
(Image credit: Submitted by Jessica )
Initially, this bedroom became our guest room, but I knew it would eventually become a nursery so we painted it a gender-neutral, fun color. Once I got pregnant with my daughter, I went head-first into planning the nursery design. I knew that I wanted it to be inspired by the whimsy and fun of Memphis design, but I also wanted it to feel like the store
Over Our Heads
(the wacky novelty store featured in the last season of
The Facts of Life
).
(Image credit: Submitted by Jessica )
The first thing I did was plan the mural. At first I was planning to do only one wall, but then I realized it would have much more impact spanning all four walls. I know that I wanted to keep it as all white line work so that it wouldn't be visually overwhelming. I pulled a bunch of inspiration images from Pinterest and planned out my design to scale in Adobe Illustrator. Then I transferred the main design elements to the walls using pencil and a tape measure for reference.
Finally, I painted everything using white semi-gloss interior paint. I freehanded all the Memphis-style pattern fills (squiggles, macaroni shapes, etc). Once that was done we had fun filling out the room with accessories! I am still obsessed with finding more "giant" stuffed objects! And my husband bought me the giant, wall-sized Swatch watch for my birthday — I had always wanted one, and now it fits perfectly in this room.
(Image credit: Submitted by Jessica )
The room turned out just as fun and whimsical as I had hoped it would. It's just a cheerful place to be. The one item I am going to have to rethink is the floor covering. We made an area rug with white and grey Flor tiles, but the white tiles are not holding up to the traffic in the room (despite having a no-shoes rule).
(Image credit: Submitted by Jessica )
Jessica's words of wisdom: The key for this project was in the planning of the mural. I'm glad I took the time to draw it to scale and properly transfer it to the wall before I started painting. I can be a person who likes to just jump in and "wing it", and that wouldn't have worked here. Now the main issue I have is not to OVER-accessorize this room! I'm always finding things that the room just needs to have...
Resource list:
Thank you, Jessica!
Apartment Therapy supports our readers with carefully chosen product recommendations to improve life at home. You support us through our independently chosen links, many of which earn us a commission.