Before & After: Adding On and Leveling Up For a Gorgeous New Kitchen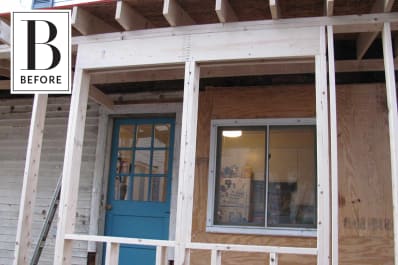 (Image credit: Alison Payne Bellaud)
Penelope and Andrew's outdated kitchen needed a boost. Well, not just a boost. A whole new extension and then a boost. After paying the high price of living through a kitchen reno with a toddler, they were handsomely rewarded with a gorgeous kitchen chock full of brand new functionality.
(Image credit: Alison Payne Bellaud)
From Penelope: We wanted a bigger and more useful kitchen. I'm an architect so I couldn't help but see the potential a small addition to the house could provide — a larger kitchen!
The old kitchen was very sad and small. Old laminate counters with plywood cabinets below, big run-on boxes with one narrow shelf in back. The wall cabinets were narrow, and the one above the refrigerator space limited the height of the fridge so that only a smallish one would fit. There was a little room in the center for a table, but it had to pushed up against exterior wall. It just a very hard layout to work with. There was one triangular shaped broom closet and no pantry for food. The old wood floor had layers of plywood and sheet vinyl. Our laundry was in the basement.
(Image credit: Alison Payne Bellaud)
We were living in the house with a toddler, so the remodeling process was hard. We moved the appliances into another room, and lived like that for a good 6-8 months...I've blocked the real memories of it! We had a contractor build the addition to expand the kitchen 5' on the one side (we were limited by zoning and had to within the footprint of the old porch), and then took to the task of demolishing the kitchen. We removed the old finishes, tore up the layers on the floor, made the triangular broom closet into a coat closet opening from the adjacent hallway and made great use of all of the new kitchen space! The overall construction took longer than we hoped, and by the time it was done I was eight months pregnant! So we were glad to finish before the new baby arrived. Overall the cost is somewhat hard to determine. We spent the largest portion on the addition, and the finishes, cabinets and appliances alone were in the $15,000 range.
(Image credit: Alison Payne Bellaud)
I love this kitchen from the floor up! We have a great 4' wide floor to ceiling pantry made out of wall cabinets and drawers. We built in a cabinet depth fridge and kept the cooking area clear of wall cabinets, keeping it open with just a wall shelf with space for things you need while cooking. Wall cabinets are on either side of the sink, and they are set back 8" from where they are typically set, because we built in another shelf behind the base cabinets there. It acts as a ledge where we keep canisters, the toaster, etc...I love this feature! It keeps our counters clear for workspace. I use the many deep drawers for plates, pots, baking pans and installed a base cabinet with pull-out for storage of our kitchen aid, blender and other small appliances.
(Image credit: Alison Payne Bellaud)
The large island has a granite top, so it's great for baking. And we built in a desk area for our computer, which we use constantly. This space is great too, and could be used as a bar area, as there is an open space under the counter for a mini beverage fridge. Our old wood floor had seen better days, so we painted it. I created a stencil and I love the nordic pattern in blue...perhaps my favorite feature.
(Image credit: Alison Payne Bellaud)
We love how it turned out and I think I'll recreate the floor stencil in our next house. We are on the market and selling our house! Our realtors at the Hvizda Team of Keller Williams are fabulous to work with, and the feedback on the kitchen has been great. We'll miss this kitchen and the house we've lived in for almost 11 years, and wanted to share this kitchen here for posterity.
(Image credit: Alison Payne Bellaud)
Penelope's words of wisdom: Do it! But seek advice from a professional if you can. Even a short consultation with an architect to get the layout correct is so helpful. Too often I see projects that could have benefited from a chat with an architect or designer.
Thank you Penelope and Andrew!