Before and After: An Abandoned Living and Dining Room's Total Turn Around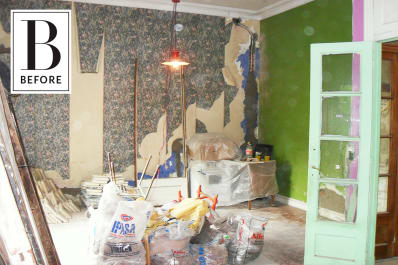 (Image credit: Maximiliano Sanguine / Fernando Diez)
When Fernando and Maximiliano bought a classic house in the Buenos Aires neighborhood of La Boca, the building had been abandoned for years and every room was begging to be renovated. With a very minimal budget they decided to redo every room themselves.
What we faced
When we bought the house the living and dining room were two separate rooms, and every wall had a different color or wallpaper. The wooden floors were buried in dirt. It was a crazy patchwork of materials that made everything look dark and depressing.
Our Plan
We wanted to improve the flow and increase the light with an open plan, so we tore down the wall dividing the living and dining room. We wanted to get rid of all the overwhelming wallpaper and color on the walls, replacing it with a neutral background. We also had to update the electrical wiring to fit a modern lifestyle; people didn't need many power sockets when the house was built.
What We Did
Demolition: We started tearing down the wall and discovered a beam that needed to stay there. We came up with a solution for the protruding beam by sourcing plaster corbels that made it look like an intentional archway.
(Image credit: Maximiliano Sanguine / Fernando Diez)
Wall Treatments: After updating all the electrical work and removing the wallpaper, we were left with very damaged walls. We patched every hole and crack with filler and painted all the walls white. At first we thought that white could turn out a bit boring, but we're very happy with the light and openness it brought to the space.
Floors: The pitch pine floors were one of the reasons why we bought the house. We wanted them to be properly taken care of so we stretched our budget to call a pro. First they removed the dirt and scratches by sanding the floorboards. Then we wanted them to apply a flat finish with no stain, but somewhere along the road there was a misunderstanding with our contractor. They ended up applying a really shiny finish with an orange tint; it was an eyesore! There was no way to reach an agreement, and it wasn't in our budget to re-do the job, so we had to get used to it. Luckily it wasn't too long before we covered it with furniture and rugs.
---
(Image credit: Maximiliano Sanguine / Fernando Diez)
Fabrics: For a dose of drama we reupholstered the sofa and chairs in black velvet, and chose black gauze for the curtains.
Furniture and decor: We incorporated mid-century classics — like the Diamond chair, and the Eileen Gray and Saarinen tables — adding a modern layer on top of the classic architecture. Chrome and marbled finishes also gave a fresh feel to the room. Then we lightened up the black and white palette by incorporating yellow accessories into the mix.
Woodwork: It goes without saying that every door, window and baseboard was damaged and needed repair. The front windows had to be taken down to fix cracks and loose hinges. We stripped down the many coats of paint with a combination of heatguns, steel wool and paint stripper. It took a zillion hours but the look of natural wood was totally worth it! However, we didn't want the bigger windows to be too eye-catching so we painted them white to blend with the walls.
What We Learned
We want to be very picky next time we choose where to install a split A/C unit. We didn't think of the aesthetic aspect, and now it's the first thing you see when you walk into the living room.
But the biggest lesson we learned is to never plan a weekend getaway while you're having the floors refinished. You may come back to your house and think that someone spilled peach jam on your floors!
(Image credit: Maximiliano Sanguine / Fernando Diez)
Thank you Fernando and Maximiliano!
→ You can see the rest of their renovated house in their house tour.
---