Before and After: A Blank Slate Dining Room Gets a Bold Color Makeover and a Bespoke Record Storage Wall
We
independently
select these products—if you buy from one of our links, we may earn a commission. All prices were accurate at the time of publishing.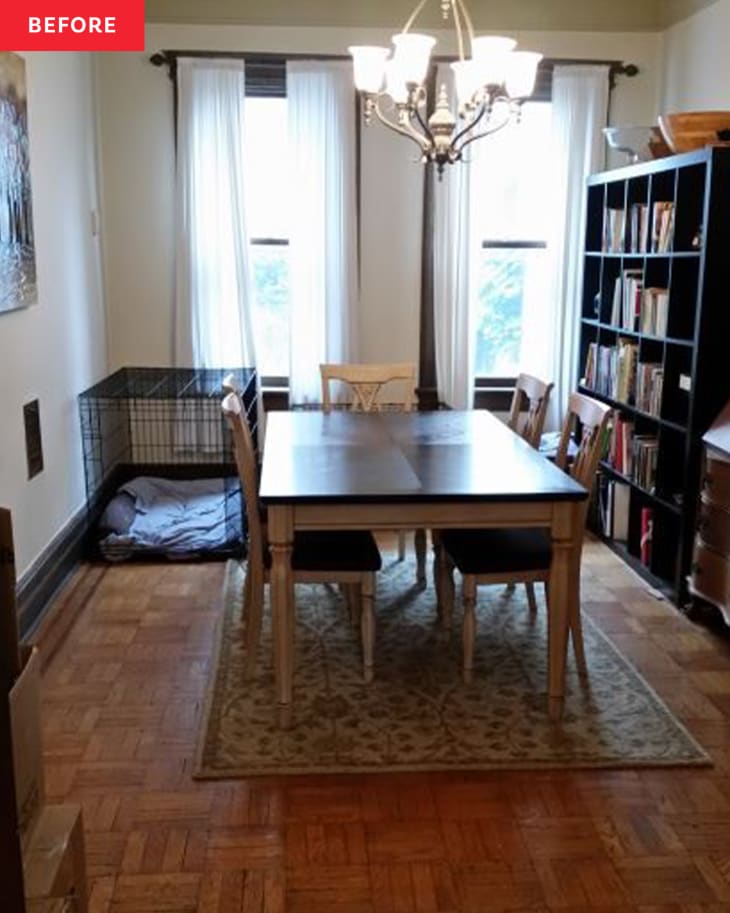 Alexa Weibel waited years for a proper dining room — an inviting space with a sizable table that could comfortably fit a (small) crowd. So when she, an editor for NYT Cooking, and her husband, Joe, also a chef and culinary director at Creative Edge Parties, bought their late 1800s home, a dining room was not only a non-negotiable, but this space also quickly shot to the top of their decorating punch list. The couple knew they'd be entertaining often and wanted to set up a warm, welcoming, and functional room for hosting friends and family, which was something they didn't have the square footage for before.
"I had spent almost 15 years in a small Williamsburg apartment that had the tiniest kitchen imaginable — I'm not exaggerating when I say I could barely stretch out my arms in it; it had at best two feet of counter space," says Weibel. "We had room for little more than a cramped IKEA four-person dining table, let alone a dining room, yet had tackled comically ambitious cooking projects in the apartment over the years."
The dining room in their new home was ample in size and had good bones — large windows, high ceilings, beautiful parquet floors — it just hadn't reached its full decorating potential yet. "The space was used by previous tenants as a dining room but didn't have much personality or color," says Weibel. "We envisioned being able to listen to records comfortably at dinner and hoped for a space in which friends could linger at the table, which was the inspiration for our dining room." 
With that vision, the blank slate room began its transformation, taking on a "library-like" feel, in Weibel's words. They'd lean into the home's original wooden features with complementary wood furniture and embrace a darker, atmospheric palette with rich, deep emerald walls, the latter in direct contrast to the light, airy kitchen. "We knew our dining room would be more of a nighttime dwelling, so [we] focused on a space that felt significantly warmer and cozier," says Weibel.
In order to make the room feel even more immersive, the couple decided to paint the surrounding window and baseboard trim, too. The project took four coats of Benjamin Moore's Absolute Green (2043-10) to look truly even — more paint used and time spent than they ever imagined — but the results were worth it. "The deep color of the walls make the ash table — and the food on top of it — pop," says Weibel. "The room is somewhat stark, with just the dining room table and shelving, but it feels intimate and warm." 
On the subject of that ash table, which anchors the dining room and serves as a focal point, it just so happens that Weibel's father-in-law, Bart, is a talented carpenter. The inspiration for their custom dining table's silhouette actually came from the chairs that now surround it. "We love mid-century modern design, and I found replicas of the Kennedy chair by Hans Wegner, which was popularized when used in a 1960 Kennedy-Nixon presidential debate," says Weibel. "We were so lucky that Joe's father built a table to match, mimicking the combination of both soft, round, and sharp, angular edges." The atomic-style chandelier reinforces those mid-century undertones.
The pièce de résistance of the room has to be the bespoke shelving unit that houses vinyl and books, which spans almost an entire long wall of the space. "My husband and I have both been passionate record collectors since our teen years — I managed to sell and publish show photography in my teen years then later worked at Rolling Stone in my twenties, and my husband Joe has pretty encyclopedic knowledge about a lot of obscure genres and recently launched his own record label, Minimum Table Stacks — so for us, music and food go hand in hand," says Weibel. "Housing our record collection in the dining room was both intentional and circumstantial — the room has the largest wall space — and grew organically from there." Weibel's father-in-law father also designed and crafted this special piece, in collaboration with her husband, over the span of several months. A collection of colorful pots and Dutch ovens crowns the unit, making sure not an inch of storage or display space goes to waste.
With their record collection on display, it made sense to continue the music theme for the gallery wall opposite of the shelving unit. So they hung a few pieces of their music-related art, including a signed poster by the Raincoats from their show at The Kitchen NYC, an original Raymond Pettibon Black Flag flyer, and an original Teenage Jesus and the Jerks promo poster shot by Julia Gorton.
Now that the room is complete, Weibel and her family spend so much time in there. "The dining room truly feels like the heart of our home and has changed the way we cook and entertain," says Weibel. "I love to serve food that feels interactive — a spread surrounding this Momofuku Bo Ssam from David Chang, this grilled Bhatti da Murgh recipe from Chintan Pandya adapted by Melissa Clark, or a big pot of congee and toppings — and am so grateful to finally have ample space to sit and enjoy a meal." She's looking forward to many a gathering here, starting with Thanksgiving, as she just developed a vegetarian meal for the holiday. She can't wait to see the way her table — and entire room — will make traditional Thanksgiving fare and those brighter-toned sides (think ombré gratin, ginger beer-glazed butternut squash, and roasted brussels sprouts with chile) pop.