Before & After: A Basic Brooklyn Kitchen Goes Mediterranean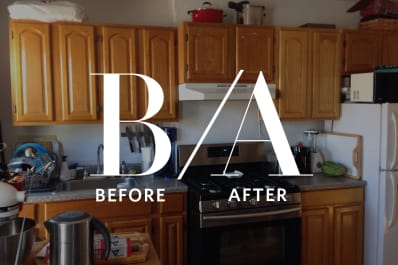 (Image credit: Submitted by Farni)
Fani's Brooklyn kitchen looked like many a New York rental kitchen, small and kind of generic. One day she had enough of her brown kitchen and decided to take matters into her own hands, bringing color, texture and life to her Park Slope space.
(Image credit: Submitted by Farni)
From Fani: My small Brooklyn kitchen had outdated old cabinets with lots of wear and tear. The style and color of the cabinets didn't match the mid-century modern style of the apartment. Since this is a rental apartment in Park Slope, couldn't do big changes. Plus, the renovation cost is always something to consider. Luckily the cabinets were made out of real steady wood, offering an excellent base to do changes.
(Image credit: Submitted by Farni)
As a Greek living in New York, I wanted to bring a little bit of the Mediterranean breeze in Brooklyn...this outdated brown color made our kitchen look so much darker and old fashioned. I've been following Before & After/DIY projects on Apartment Therapy and I thought, let's give it a shot!
(Image credit: Submitted by Farni)
It took two days of hard personal work, no help at all. I must have watched all of the YouTube tutorials on how to paint kitchen cabinets, without stripping, sanding or priming. I ended up using Rust-Oleum's Cabinet Transformations cabinet coating system. It felt like a safer bet to use the Rust-Oleum instead of a chalk paint since it entails a de-glossing step to remove grease, oil and dirt and prepare the surface for the transformation. It worked nicely and de-glossing wasn't that difficult or time consuming. I like the finish of my new cabinets with this product and the price is unbeatable.
(Image credit: Submitted by Farni)
I used different colors for the upper and lower cabinets. I didn't want to go with something very bright on the lower ones since they're not that easy to clean. On the other hand, going entirely white was too boring. I loved the white/dark grey combination, it's warm and bright at the same time. For the final touch, the wall, I wanted to go with something colorful but didn't want to just paint the wall. I found this beautiful stick and peel Portuguese tile wallpaper on Amazon, and for just $60 it did the trick! Finally, got some handles from IKEA for the upper cabinets.
(Image credit: Submitted by Fani)
I love everything about my new Mediterranean kitchen! It's so much brighter and so stylish. It gives a whole new touch to our apartment and we iddn't have to make any big changes.
Fani's words of advice: For those out there looking for a big change with little money and effort, go for it!!! It's easier than you think...
Thank you, Fani!
Apartment Therapy supports our readers with carefully chosen product recommendations to improve life at home. You support us through our independently chosen links, many of which earn us a commission.