Before and After: This Budget-Friendly, Grandparents' Kitchen Staple Upgrades a DIY Cabinet That Had Seen Better Days
We independently select these products—if you buy from one of our links, we may earn a commission. All prices were accurate at the time of publishing.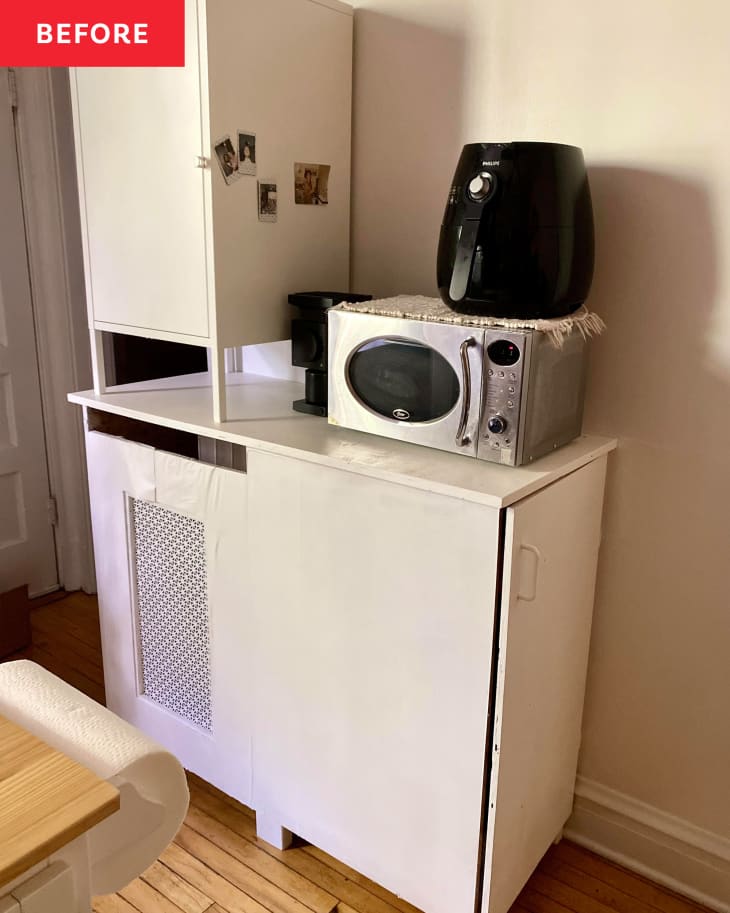 I have a small city kitchen with very few cabinets, making it difficult to have more than one pot, one pan, and a set of plates to store. Since it's not the 1920s, I moved in with a lot more on hand than just the bare necessities, which gave me the unique opportunity to hunt down storage solutions for the small space. I eventually made a radiator cover with a built-in cabinet, but it wasn't the most elegant thing out there to begin with (which you can see in this before photo). As the months wore on, the piece turned into an eyesore. The paint started to discolor, and the contact paper I used began to peel, probably from the heat.
Rather than splurge on new furniture for the apartment I planned to stay in for only a few more months, I decided to try something else. The top of the cabinet was still perfectly functional; in fact, I have my air fryer, microwave, and another cabinet on top of it (I told you I needed more kitchen storage!). All that really bothered me was the look of the cabinet below, so what if I just hid the ugly part of this piece? Pulling inspiration from my grandmother's kitchen in Poland, I decided to hang a striped cafe curtain across the cabinet.
Using cafe curtains in kitchens is common in Europe (for both kitchen windows and to close off base cabinets), and this kind of drapery can help conceal clutter on shelves and islands — so why not the entire front of a cabinet? You see examples of these "skirts" everywhere, from charming English cottages to timeless, regal French countryside homes. They hide things but also allow for easy access, and that's key.
Not only is this cafe curtain/furniture skirt practical, but it also allows you to play with new colors and patterns to elevate or change the look of your kitchen instantly. I originally wanted a red-and-white striped curtain, but since I couldn't hunt one down, I played it more neutral with a minimalist brown-and-white striped curtain on a brass rod. For practical and safety reasons, I hung the curtain a couple of inches below the countertop to allow some room for heat to escape through the radiator cover, but you could mount one almost flush to the top of your cabinet if you aren't concealing a steam heat system.
With just a few screws, brackets, and a bit of fabric, I completely disguised the unsightly but necessary cabinet behind this charming cover. Since cafe curtains are super easy to swap out — and relatively easy to find at thrift stores or online markets — I can continue to play with this spot's aesthetic, too. Overall, this fabric feature was an easy, cheap, and simple fix to a gnawing renter problem, and it could work for you if you're bummed out about the look of some of your cabinet fronts but don't want to replace the doors.