Before & After: Decking Out the Deck on a Budget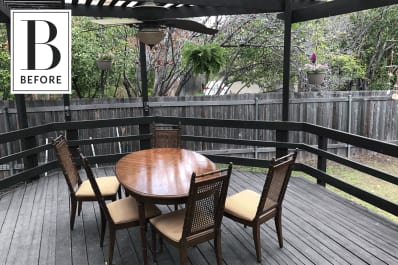 (Image credit: Submitted by Natalie )
Spring has (maybe? hopefully!) sprung and now is the time to get outdoors. Natalie and her boyfriend recently moved in together and found themselves with a spare table that was a little worse for wear. Rather than toss it and buy all new deck furniture, they had the bright idea to give what they had a colorful upgrade and now they have a lovely outdoor space without breaking the bank.
(Image credit: Submitted by Natalie )
This old table had been in storage and was showing its age- stained, chipped and scratched. The surface also had a 1970s/80s "flecked" paint job on top of the beautiful stain and solid wood- which really ruined the surface. We debated sanding everything down to the original (beautiful) wood- but there were so many large chunks of wood missing we decided to make it an outdoor table.
My boyfriend and I recently moved in together, this had been his table previously and we didn't need two tables...BUT we did just move into a house that has an amazingly large porch, so we needed some outdoor furniture. Being on a budget, we used what we had.
(Image credit: Submitted by Natalie )
We accomplished the project in about three weekends- first weekend was prepping (sanding, removing cushions, buying fabric and paint, etc). Second weekend was primer and chairs, last weekend was the table and last coats of gloss/enamel topcoat. I didn't buy enough fabric (we were about 5" short) and I thought it would be a snap to order more online, only to find out the pattern had been discontinued. Luckily, my boyfriend works in a hospital with a bunch of nurses and one of them has a husband in the "industry" and located eight more yards through back channels!! Whew! Our back-up plan was to paint two of the chairs a teal blue and give them different fabric for a mix and match feel...
(Image credit: Submitted by Natalie )
Since we're renting the house we can't really do anything to the porch, and while it's huge and amazing, the porch itself is pretty dark brown and lacks personality. I think the table and chairs bring a pop of much needed color and brightness to our outdoor space and I can't wait to have brunches and dinner parties out there!
(Image credit: Submitted by Natalie )
Natalie's word of wisdom: We didn't prime the chairs and that was a huge mistake, they took so many more coats of paint than the table and legs! PRIMER is real y'all!
Thank you, Natalie!