Before & After: A Completely New Sofa Phoenix Rises from the Ashes of the Old One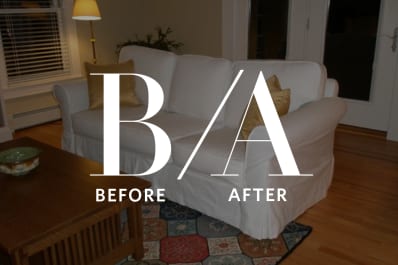 (Image credit: Submitted by Karen)
Just going to get this out of the way up front: this project is not a casual, pick it up when you're bored DIY. This project is a "save yourself thousands" and "put your tools and considerable sewing skills to good use" and definitely a "can't believe you can actually do that" type of DIY.
(Image credit: Submitted by Karen)
From Karen: I wanted a new more modern sofa, but the one I loved was $2,100! My slipcovered sofa was stained and sat very low but the frame was still very solid. After a little research I learned it was possible to make structural changes to a sofa frame so I jumped in!
(Image credit: Submitted by Karen)
First step is to loosen some fabric and assess the structure of the sofa. Mine was solid oak with no issues. I wanted angled arms instead of the round ones. It was relatively easy to knock off the rounded part (see picture) and move a couple of support bars.
I wanted square back cushions instead of the half-T ones on my sofa, so I remade the back cushions by pulling out the filling, reshaping the cushions fillers and then re-stuffing them. I also wanted a sofa that sat higher, so I got new legs ($35). I did all the work myself right in my living room. The fabric was $7 yard. Total for new legs and fabric $150!
(Image credit: Submitted by Karen)
I am so happy with the outcome. It looks like my inspiration sofa at less than 1/10th the price. My husband and I are both tall so the higher sit is much more comfortable for us. I'm so pleased to be able to restructure what I had rather than buying something new.
(Image credit: Submitted by Karen)
Karen's words of advice: A sofa is a big project. If you have never upholstered before, start small with a chair first. Invest, borrow or rent a pneumatic stapler; it makes all the difference. Watch YouTube videos. It's how I learned just about everything. Don't sweat if the outcome is not perfect. As I told my husband, this sofa is headed for a thrift shop or the dump; what do I have to lose?
Thank you, Karen!