Before and After: This Small Pantry Is All Cleaned Up with a Simple-yet-Effective Update
We independently select these products—if you buy from one of our links, we may earn a commission. All prices were accurate at the time of publishing.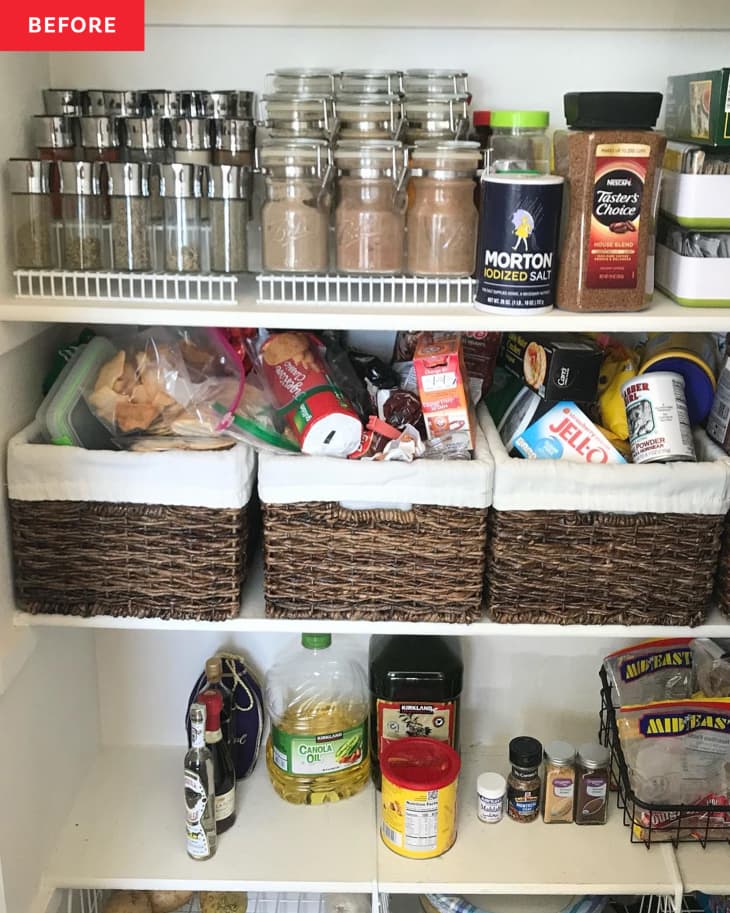 Before and afters are so inspiring because they showcase someone's real-life organizing problem and how they fixed it. They can be motivating — especially those offering such simple organizing solutions that you want to get up and put the ideas into practice in your own space immediately.
Follow Topics for more like this
Follow for more stories like this
This is the effect of Rana's (@atouchofsimplicitybyrana) pantry organizing project. It shows how much of an impact you can have in a space with a thorough clean-out, a few well-selected products, and the thought-out placement of items — something that feels within reach for many. 
Rana describes the impetus for her pantry overhaul: "Coming across beautiful pantries on Instagram inspired me a lot and motivated me to tackle this space and make the best out of it despite its small size!" 
Previously, Rana's pantry was a "total mess" and she couldn't find what she was looking for. "Baking supplies were mixed with snacks and chips. Coffee and tea were still in their original containers. It was time-consuming and frustrating to locate ingredients when cooking and baking," she says. 
Rana's goal was to "categorize items based on [the] frequency of use and make my morning routine easier. The aim was to personalize my pantry according to my needs while still achieving a clean, uniform look."
To make this happen, Rana began by taking everything out of her pantry. Next, she wiped the shelves, sorted items, and got rid of anything that was expired or that she and her family didn't eat. Then, she says, she "tried as much as possible to ditch packaging and use airtight containers and glass jars for items like pasta, beans, coffee, and spices." 
The hardest part of the project was "washing and drying the containers and jars" as well as emptying the entire pantry. It was a time-consuming task, but it was also the most rewarding one. 
Rana says that her favorite part of the pantry makeover was using the OXO clear containers because it "made it way easier for me to find what I was looking for." 
Overall, Rana is thrilled with the result: "I love the way my pantry looks perfectly organized and items are easily accessible!"
For anyone that wants to take on a similar project but has some reservations, Rana offers these words of encouragement: "If you're hesitating [to take] on this project as it might seem difficult, I assure you that you're overthinking it. Small pantries, as in my case, might make you feel discouraged. But, I guarantee that following the right steps and using clear containers, jars, baskets, lazy Susans and bins will do the trick, and you will be surprised how [many] items your small but mighty pantry will fit."