Before & After: Taking a Small Space From Blank Slate to Luxe Suite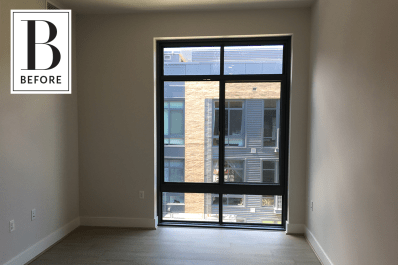 (Image credit: Submitted by Kevin)
Kevin moved into a smaller apartment in a prime location and found himself facing the blank slate of a unit in a new building. A fan of both small spaces and hotel living, he jumped at the opportunity to transform the apartment into a boutique hotel inspired suite of his own.
(Image credit: Submitted by Kevin)
From Kevin: I moved from 1,000 square feet to 540 to be on the Potomac River in DC's Wharf Development. The new construction offered a blank slate to style into an executive suite. While the building is on the river, the apartment has an interior courtyard view. This meant I needed to style the space in a way that felt like a luxurious hotel suite filled with art and design pieces that make the rooms come to life and offer visual stimulation at all hours of the day. After long walks along the river with my dogs, I wanted to return home and bask in the western exposure sunlight or light up the artwork in the evening to relax and get inspired. I wanted to transform the white box, creating intimate spaces while enlarging others.
(Image credit: Submitted by Kevin)
I love small spaces and have a fantasy that one day I will live and retire in a hotel suite. For me, the fun in a small space is the relative ease in making it glamorous, intimate and exciting. I have two sides, one that loves to layer and the other that loves minimalism. This project was a chance to really explore the layering, and to play with design, color, lighting and art.
(Image credit: Submitted by Kevin)
Over all, this project took me four months. It started by selling my largest pieces of furniture on Craigslist. At first I was hesitant, but soon came to love meeting new people who were also going through their design projects. It was like a secret society of shelter creatives!
The cost was about $27,000 which included the new furniture, a soaker tub for the bath, a new piece of art, the extensive lighting, painting, closet systems and wall paper. I think what surprised me most was the cost, especially the labor costs, and my advice to others is to get multiple bids. I feel like I could have saved money by bidding project by project. As this was the largest project I've ever done at once, I learned a lot and I am sure I will apply these lessons again in the future.
(Image credit: Submitted by Kevin)
I love that I created a a true urban retreat adjacent to the beautiful Potomac River. I walk out of my building to one of the most beautiful water views in DC, and return to a visually stimulating sanctuary space. Every day feels like a vacation on the waterfront and in my boutique luxury suite.
(Image credit: Submitted by Kevin)
Kevin's words of wisdom: I'd urge people to not be afraid of using dramatic colors or designs. They can easily be changed if they don't work, so go with your gut. Explore styles, but in the end trust your own style and the things you love and surround yourself with them. Research internet furniture companies carefully. It's amazing what good quality some deliver with lower prices vs. store front retail. Most importantly, trust people. In a renovation or redesign, you will meet lots of great people in person and online. Trust their wisdom and insights. In the end, they are some of your best resources and they are your muse.
(Image credit: Submitted by Kevin)
Resource list:
Article
Loom and Leaf
Restoration Hardware
France and Son
Restoration Hardware
Gilt
TheRealReal
Invaluable
525water.com
Thank you, Kevin!
Apartment Therapy supports our readers with carefully chosen product recommendations to improve life at home. You support us through our independently chosen links, many of which earn us a commission.