Before & After: The Unbelievable But True Story of Someone Who Had TOO MANY Closets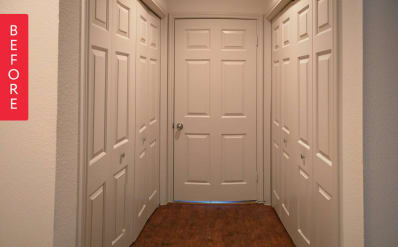 (Image credit: Max Walters)
So often we find ourselves engaged in the classic home design battle of style versus storage. Tamera found herself in such a conundrum with her hallway. Too many doors led to a guest bathroom guessing game and made the space feel cramped and cut off. Her solution was simple, inexpensive and totally changed the vibe of the hallway.
(Image credit: Max Walters)
From Tamera: When we first moved into our apartment, the hallway to the guest bathroom was covered in doors. It felt small and closed off, not to mention it was confusing for guests to figure out where the bathroom was.
(Image credit: Max Walters)
(Image credit: Max Walters)
Since we didn't need the extra storage space, we decided to turn the closet into a mini mudroom, complete with a built-in bench. We custom built the bench ourselves for about forty bucks, and the wood wall is actually twenty dollar snap-in laminate flooring (it covers up the ugly cable and telephone boxes that we don't use). The shelf up top was a leftover from our last apartment.
(Image credit: Max Walters)
Now we have a great place to neatly store a few craft items and all our shoes. Our favorite addition is the piece of art on the wall that we commissioned from our friend Hilary Combs. We wanted something to remind us of our dream to someday own land in Colorado. We feel that not only does the space now look more inviting and open, but it is actually more functional for our small family.
Thank you so much, Tamera!
Feeling inspired by Tamera's hallway closet makeover and looking to add a little more storage to your home? Trying to make the most of a small space? Or maybe you're just looking to add a little design surprise to your home. Check out our list of 161 ways to add storage to your space!