Before & After: Who Says White Paint Can't Work Wonders?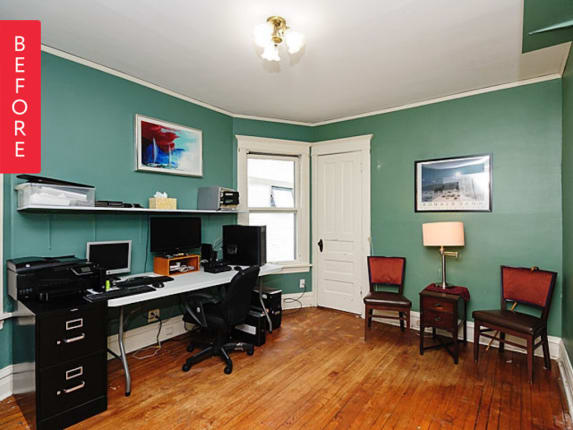 (Image credit: Submitted by Adie)
Adie's office space in her new house was in a room with great light and of a good size, but something just wasn't right. After some big fixes before moving in, Adie and her husband focused on giving the room a DIY makeover.
(Image credit: Submitted by Adie)
From Adie: When we purchased our home, one of the bedrooms was being used as an office. It had green walls and shelves everywhere. The floors were in rough shape, but the room has great natural light and is quite spacious. We added an overhead light and refinished the floors before we moved in, and then continued the process of converting it back to a bedroom after moving in.
(Image credit: Submitted by Adie)
It took my husband a full afternoon, a lot of sweat, muscle, and creative use of a variety of hand tools to remove all of the shelves from the walls. By the time he finished, the plaster walls were in a sorry state. We tried patching the holes, but quickly realized we needed a professional. We found an affordable plasterer who skim-coated the walls and ceilings. It was a great decision, as it made painting much easier, and made the whole room feel brand new.
(Image credit: Submitted by Adie)
We painted the walls Elmira White, and the trim Simply White, both by Benjamin Moore. We inherited or already owned all of the furniture. The headboard is actually an iron room divider given to us by my in-laws when they downsized.
This was the first room in the house that really felt finished, and it kept us motivated to finish the rest of the home!
Thank you so much, Adie!
Love the look? Want a little white paint inspiration for your serene and relaxing bedroom? We've rounded up some of our favorite white paints for your next project.