Before and After: A Sad Work From Home Desk Setup Goes From Pretty Bleak to Very Chic
We independently select these products—if you buy from one of our links, we may earn a commission. All prices were accurate at the time of publishing.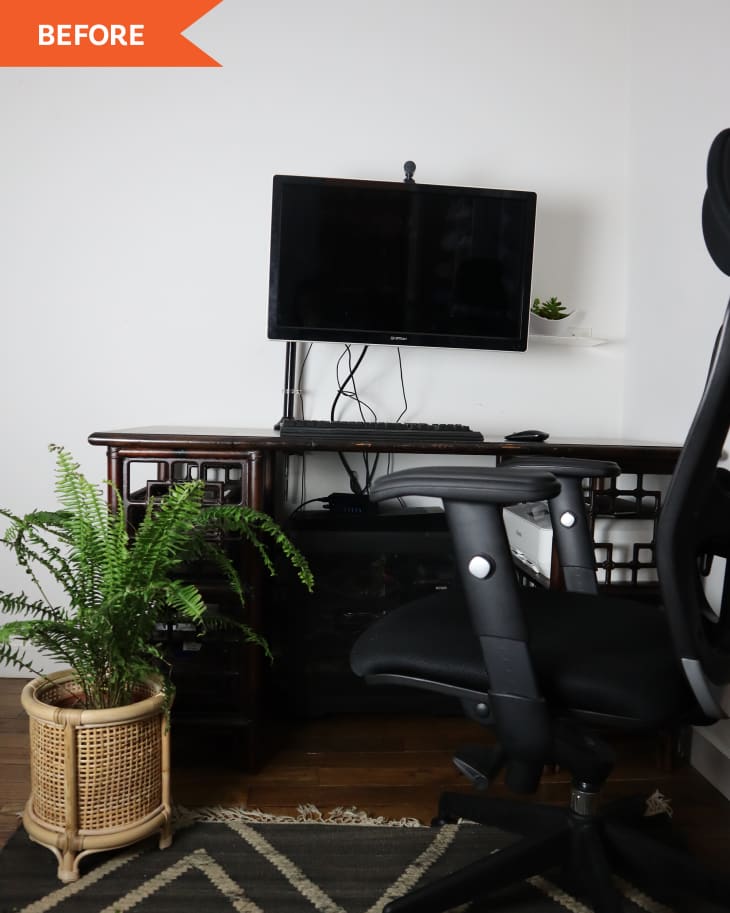 Sometimes even decor enthusiasts suffer from design indecision — or maybe it's just not knowing what to do or worrying that you'll make big decorating mistake. I, myself, blame a combination of all three for the state of the workspace next to my bedroom nightstand, which was a bad idea from the get-go, but became a necessity when my husband and I both started working from home full-time during the pandemic. The setup was essentially an afterthought, cobbled together with cast-offs we weren't quite ready to get rid of. Embarrassed by the oversized desk, clunky but comfy chair, and old dingy rug, this was the only spot (in addition to my too-hard-to-shoot tiny bathroom) that didn't see the light of day in my apartment tour.
Follow Topics for more like this
Follow for more stories like this
When our WFH situation showed no signs of changing, I decided it was time to make a change here to create a space to be proud of — something that would be super-functional and vibe better with the rest of the home, what I like to call an eclectic, mostly neutral mix where tonal textures, vintage objects, and the occasional pop of turquoise all come out to play.
The good news? I didn't have to take this redo on totally solo. Stumped by the tiny dimensions of this bumped-out, windowless nook, I connected with the Crate & Barrel Design Desk, which is the home decor retailer's (free!) design service team. Abbey Walker, digital design lead at Crate and CB2, sent me a photo and measurement guide so she could assess the nook (and how it fit into the rest of my bedroom both spatially and stylistically). Then I got to snapping and measuring, sending her everything she'd need to create a 3D model and 2D floor plan of the spot.
She also asked for inspirational images to gauge my design aesthetic, and we chatted a bit over Zoom she she could get a better sense of my needs. I was willing to give up the computer monitor since I mostly work on my laptop, and I didn't really use the printer much, so that could go, too. I still needed some storage for important documents and typical desk items, but I was okay with relocating some of the other things elsewhere. I told Walker I wanted temporary wallpaper to set off the desk, but it also had to work with the yellow floral Tempaper Bohemia pattern I had up by my closet nearby. A tall task, I thought, but not impossible, right?
From this digital correspondence, Walker created a 3D model (pictured above) based on my style preferences: textured, bright, and modern with some vintage mixed in for good measure. I couldn't believe how realistic the rendering was; it looked just like my room. First, I hung Tempaper's faux grasscloth as a backdrop to define the nook and set a neutral base for the space. Then, the rest of the work was really just a matter outfitting the spot with key pieces that featured better proportions and brighter finishes. She suggested the compact 48-inch Emmer Desk, the Libby Natural Cane Desk Chair, and the Patara Handwoven Jute Rug, all of which feature woven materials — grasscloth, cane, and jute, respectively — to keep the look light and airy. (Crate & Barrel was kind enough to gift items to me).
Now, I especially love the rug. Something extremely low-pile had to go here because I didn't want the chair wheels getting stuck when rolling and swiveling around. Moreover, I've learned that in my less than light-filled apartment, predominantly cream floor coverings really helped to brighten things up (and are fairly easy to keep clean with regular vacuuming in areas where you don't eat… and if you don't have kids or pets). This carpet really fit the bill perfectly. 
Walker also suggested some accessories, from artwork to faux plants and decorative objects, to style out the desk and blank wall space. I would have never thought to add a large oval mirror to this spot, especially since I have a full-length one on the back of my bedroom door. This piece throws what little sunlight I get around the room and takes great advantage of the 9-foot ceilings, one of the apartment's best features. Its thin black frame works well with the art shelves, too, where I've displayed a favorite vintage portrait and framed photo as well as a landscape print that I scooped up on a recent trip. These shelves don't have to be used just for pictures either; they're shallow, sure, but they're also deep enough for candlesticks and sculptural pieces like an old brass duck head and a large, abstract-shaped H&M Home vase. I brought in a vintage marble bookend, purchased from local thrift shop Housing Works, to prop up some current reads, while a brass finish pharmacy lamp introduced task lighting and a touch of extra warmth to the desktop.
Now I can't believe this chic spot was my desk area (I've since moved and am in the process of reassembling it to its WFH glory as best as I can in my new home). If you see me in front of this setup in a Zoom call though, can you blame me for immortalizing it as a background?