Here's Why You Might Want to Trade Your Media Console for a Bench
We independently select these products—if you buy from one of our links, we may earn a commission. All prices were accurate at the time of publishing.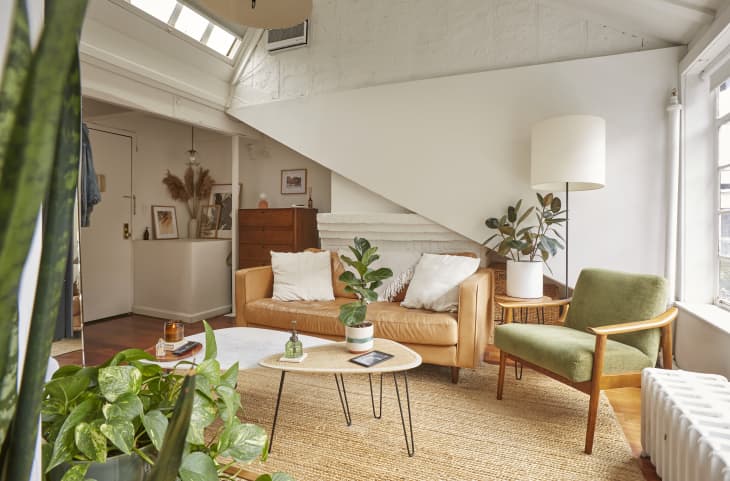 To all the small space-dwelling plant lovers out there, don't be deterred by what you may be lacking in square footage. If anything, let that deficit inspire you to find new ways of using plants as decor. One small space dweller in New York came up with a new way to display his plants that I honestly never expected, and trust me, you'll definitely going to want to steal this idea.
Follow Topics for more like this
Follow for more stories like this
Brian Beelman lives in a warm, cozy 350-square-foot lofted studio in the West Village neighborhood of New York City. "With the luxury of time and available inventory in 2020, I was able to search for months for the 'perfect' space," Beelman says in his house tour. The apartment he stumbled upon truly has it all — a fairly roomy layout, white walls and ceilings ready for personal touches, and huge windows that let in in lots of sunlight. It's truly as dreamy as lofts get, and having plants all over the place adds the perfect natural touch to this urban oasis.
Beelman says he grew up in the "middle-of-nowhere, Ohio," so moving to New York City was a big change from the great outdoors vibe he was accustomed to. "Having a space that feels light, airy, and full of plant life keeps me feeling grounded whenever the city wears me down," Beelman says.
One of the most interesting things about Beelman's apartment is his unique plant display ideas. In fact, instead of using a typical console table or media cabinet, Beelman actually chose to anchor his flatscreen with a plant-packed bench below it, and I can't get enough of this look. His particular bench is this splurgey teak style with a caned seat from Anthropologie, but you could get this look with something simpler from a big box, if that better suits your budget.
"I adore the plants! And I've never had much of a 'green thumb,'" Beelmans says. "But with all of the natural light in this space, I truly don't have to do all that much to keep them happy." The caned teak bench he used is super-stylish but something you'd expect to see at the foot of a bed or in an entryway — maybe even behind a sofa. I love that it's become a focal point here though, thanks to the plant babies that make it pop. Even better, it's thin, low in profile, and not all the deep either, which makes it much visually lighter than a typical television console. That's a win-win in any small space, so the plants are just the icing on the cake here.
If you're interested in adding more greenery to your space but feel stumped on places to put them, this idea is unexpected but just as functional as any table or plant stand. "When in doubt, just get more plants," Beelman says. "They go with everything, will never be out of style, and hell, they even clean your air."