These Are the Unexpected Benefits of Living in a 5th-Floor Walkup
We
independently
select these products—if you buy from one of our links, we may earn a commission. All prices were accurate at the time of publishing.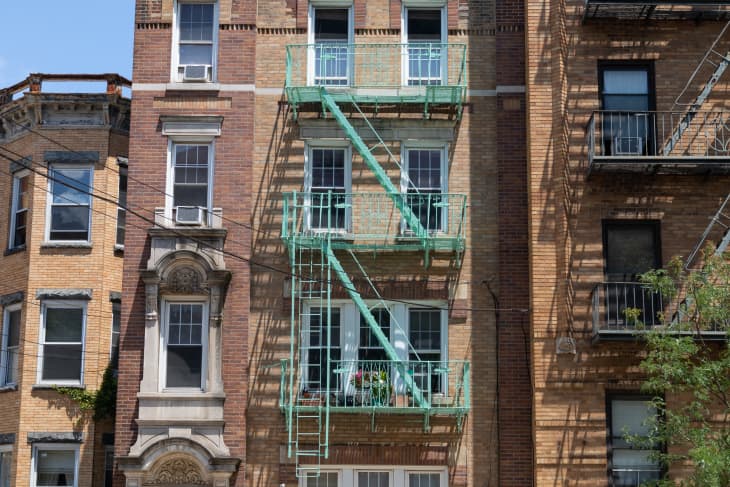 Living on the top floor of an apartment building in New York City might seem like the dream. Living on the top floor of a building that has no elevator, however, might seem like a nightmare to others. While it's not for everyone, there are clear advantages to living high up in a walkup, even if it means coming home will count toward your daily cardio workout. 
Kayla and Kate are partners and recent college grads who signed their first apartment lease on a fifth-floor walkup in Astoria, New York, a bustling, multicultural neighborhood in the borough of Queens. Breathless from both the excitement of starting their adult lives — and no doubt from climbing all those stairs — they shared some of the top reasons they love living on the top floor of their building.
Real estate really is all about location and having convenient access to what you need. When the access to your front door isn't all that convenient, though, you can score a discount on rent, as Kayla and Kate found when they were searching for apartments. 
"We have lower rent because we're this far up, which is worth it," Kate says, noting their savings is between $200 and $300 per month from similar, lower-floor apartments they had toured.
While it also depends on which side of the building you live on, living high above the trees or anything else that provides shade results in more sunlight for an apartment. And in cities where windows are already at a premium, this is a definite perk, as the couple has discovered since they moved in. 
Another big advantage of having a big climb to their apartment? There's less of a chance that rodents and other pests will follow them. Of course, there's an exception to every rule — and New York City pests can be very determined — but it's a smart move to at least attempt to outmaneuver mice, for example. "They have to go through so many other units and places before they can get up here," says Kate.
A More Mindful Approach to Running Errands
While Kayla and Kate have noticed that both their stamina and leg muscles are increasing, so is their mindfulness when it comes to tackling errands. There's no running out for a single errand anymore, according to Kate, who says "the thought of having to go up the stairs five times a day" has made her more strategic about how and when she leaves the apartment. 
It also makes them more focused when it comes to grocery shopping. "We have to carry everything upstairs in one trip," says Kayla.
You could make the argument for canceling a gym membership because there's enough of a calorie burn traipsing up all those stairs. Or you might revel in the quiet of your floor because no one's got the energy to visit you or your neighbors. But aside from preparing those witty replies for anyone whose jaw drops open when you tell them exactly where you live, there are other reasons for living on a top floor of a walkup.
For Kayla and Kate, stabilized rent is more than enough for them to love living at the top of their fifth-floor walkup. "I think the only way that we would leave here is if we wanted a different area or we wanted more space," Kayla says. 
Would they frown upon an elevator building? Of course not, but it's not enough to make them move. And if you're pondering an apartment on a high floor in a walkup building, don't sweat it.  
"If that's the only issue with the apartment, you'll be fine," Kayla says.