The Unexpectedly Helpful Measuring Cup Every Home Cook Needs
We
independently
select these products—if you buy from one of our links, we may earn a commission. All prices were accurate at the time of publishing.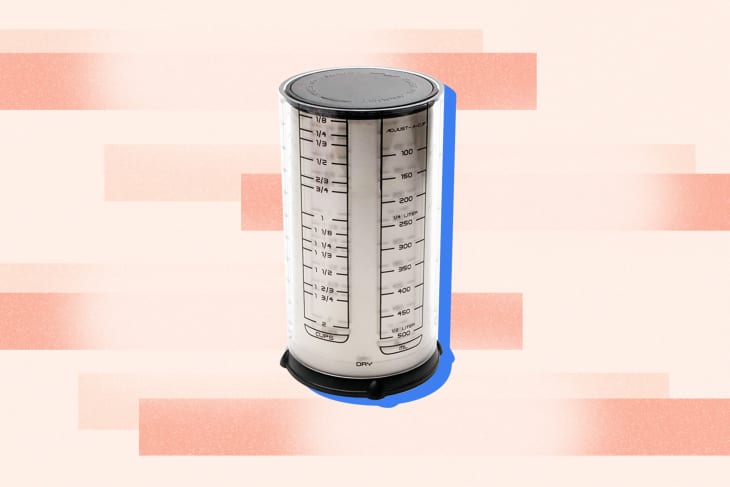 There are dry measuring cups (the kind you use for sugar, flour, and grains) and liquid measuring cups (for things like water, buttermilk, and oil). By now, both of these have probably earned their place in your kitchen, ensuring both savory and sweet success. (If you're looking for new dry or liquid measuring cups, here are some great ones.)
However, what we're really here to talk about are adjustable measuring cups. Because it's the third type of measuring cup you should make room in your kitchen for.
To be honest, I used to relegate adjustable measuring cups to the "probably unnecessary" gadget category. But when I started working at America's Test Kitchen, I noticed test cooks using adjustable measuring cups while developing recipes. So, I bought one. And now I use it all the time.
An adjustable measuring cup can be twisted and adjusted to different volume markings. To dispense the ingredient, you simply turn the cup over and press the cup's plunger. While adjustable measuring cups market themselves as working for both dry and wet ingredients, I mostly use it for things that are sticky or goop-y and therefore tougher to scrape out of a regular measuring cup — I'm talking about molasses, honey, maple syrup, tahini, peanut butter, corn syrup, mayonnaise, and sour cream.
Which one should you get? The best-of-the-best adjustable measuring cup is this KitchenArt Pro 2-Cup Adjust-A-Cup. It can measure any amount from 1/8 of a cup all the way up to 2 cups. Its plunger glides smoothly, pushing out nearly every bit of ingredient (if there's anything left in the chamber, I use small spatula to easily get it out). The cup has a wide base that keeps it stable and upright while you're filling it and its markings don't fade, even after many, many trips through the dishwasher. Occasionally, the plunger needs to be lubricated, to make sure it still works smoothly. (Just dab on a little bit of a neutral oil, like vegetable, grapeseed, or canola.) However, this is a small quibble compared to the measuring cup's usefulness.
I think this size is the most versatile version, however the 1-cup version is also helpful for measuring smaller amounts, like tablespoons.