The Best Bathroom Paint Colors, According to Real Estate Agents
We independently select these products—if you buy from one of our links, we may earn a commission. All prices were accurate at the time of publishing.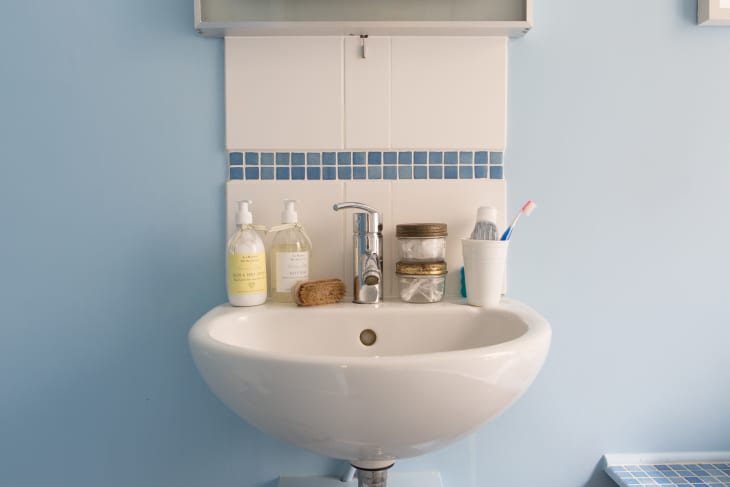 Sometimes, it's the little things that can make a big difference. Take Zillow's 2018 analysis of paint colors which found small things like door and cabinet colors affecting sale prices by as much as $6,000. Included in that: Painting your bathroom periwinkle blue. In the analysis, rooms with blue bathrooms sold for more than expected.
Follow Topics for more like this
Follow for more stories like this
Amanda Pendleton, Zillow's lifestyle expert, says this might have to do with current bathroom trends, like white cabinets and countertops, which periwinkle nicely complements. Additionally, as homeowners and renters alike try to fashion spa-like environments, they may be drawn to pale blue, which many view as calm and serene, she explains.
A less trend-forward reason why this light shade has such an effect on buyers? Real estate agents say it's all about space.
"People looking to freshen up their bathrooms will most certainly want to focus on creating the illusion of more space, even in the largest bathrooms," says Luke Schrader, a real estate agent with Schrader Group in Kalamazoo, Michigan. For the same reason, he recommends his clients also declutter their bathrooms to get a more open feel.
Not a periwinkle fan? No worries—most light colors will make your bathroom feel more spacious so you have plenty to choose from. If they're bright, too, they can even make the room feel cleaner as well, Schrader says. Stay away from dark colors, though. While they may feel "cozy," they'll give the impression of a smaller square footage (even if, on paper, it's still standard or even large!) After all, what matter more: What the real estate listing said or how it felt in the bathroom?
Another reason why going light in bathrooms benefits sellers? There aren't many staging moves to be done in a bathroom, say Paul Maranger and Christian Vermast of Sotheby's International Realty Canada. The room just needs to be bright and functional, so a fresh coat of bright, light paint may be your best bet.
There is an exception to this rule, however: powder rooms. Since this half bath is commonly used by guests, Maranger and Vermast say the name of the game is creating a private environment. They recommend for their clients to use Benjamin Moores' Raccoon Fur, a deep charcoal paint, to touch up their powder rooms. Another way to make it feel more intimate? Add some dimmable lights. And unlike the main bathroom where you want clean simplicity, Maranger and Vermast say you can stage the space with framed mirrors and even art for dramatic effect.
More great Real Estate reads: